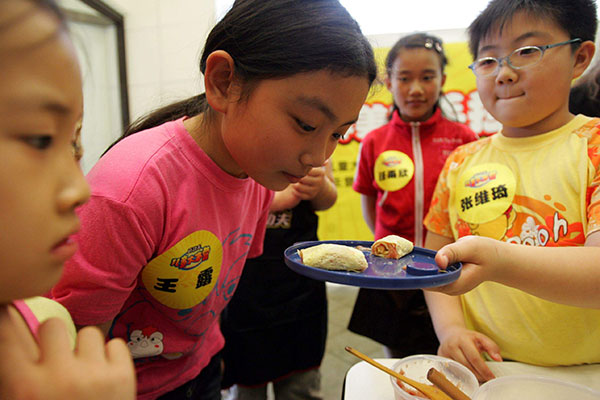 Children share food prepared by a classmate in Beijing. An Xudong / for China Daily
Nutritional experts are urging Chinese youth to eat healthier foods and exercise more, citing a recent survey that found unbalanced diets had been hampering student health.
More than 30 percent of students in Beijing's primary and secondary schools don't eat enough cereal, potatoes and vegetables, and they consume an excessive amount of fat, salt and sweets, the Beijing Center for Disease Prevention and Control said on Wednesday.
The health and diet survey, which examined more than 14,000 students from 80 primary and middle schools in Beijing from April to May, found that a lack of exercise and unbalanced diets had contributed to a decline in student fitness, the center reported.
The survey also found that nearly two-thirds of students favored sugary beverages and weren't drinking enough water.
"A lot of children are not taking in enough dietary fiber and carbohydrates, which matter a lot for maintaining a healthy metabolism," Duan Jiali, director of the center's school health institute, said on Wednesday.
"Instead, they eat too much fried, overly salty and overly sweet food and snacks, which taste better but do harm to their health, resulting in obesity and high blood sugar," she said.
Duan's concerns were echoed by the results of recent health research into Beijing's population that was conducted by the Beijing Commission of Health and Family Planning.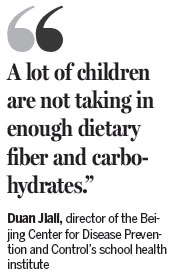 The research, published last month, found that nearly 16 percent of primary and secondary students in Beijing were classified as obese last year, more than twice the rate in 2000.
It also found that an increasing number of Chinese children are facing the threat of chronic diseases, since nearly 67 percent of obese students also had high blood sugar.
"Chronic diseases have started to hamper the health of much younger groups, not only older people," said Du Hong, the commission's deputy director of disease prevention and control.
"Since obesity is proved to be the cause of many such diseases, improving students' diet habits toward a balanced intake of all ingredients has been an urgent issue," Du said.
In order to curb the threat, the city launched a five-year program to help teachers, students and parents eat healthier, Du said.
The Health and Family Planning Commission last year issued school dietary guidance, which outlined what and how much students should eat every day, and how much they should exercise to balance out the calories they have consumed.
A lack of parental guidance also has been an issue, Duan said.
sunxiaochen@chinadaily.com.cn