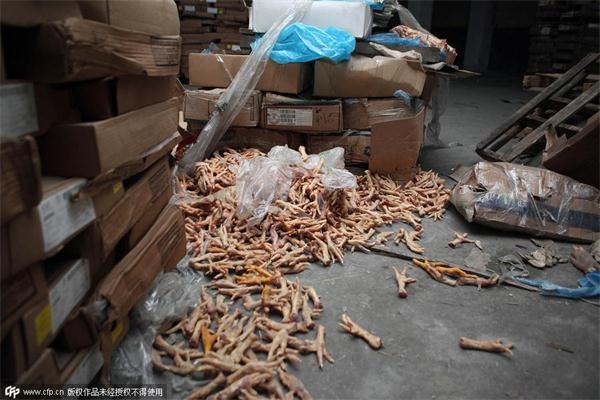 Shenzhen police seize 6,117 tons of smuggled frozen meat on April 16, 2015. [Photo/CFP]
National prosecutors are to step up their efforts to investigate misconduct among officials in food safety-related crimes, the Supreme People's Procuratorate said on Wednesday.
"Contaminated and harmful food will seriously harm people's health, undermine economic order because it is sold much cheaper, and affect social stability. We will resolutely fight against such crimes," SPP spokeswoman Xiao Wei said during a news conference on Wednesday.
She said national prosecuting departments began a two-year campaign in March to target any corrupt officials found to be involved in food-safety crimes and punish them severely according to the law.
Crimes include misconduct while carrying out supervision duties and accepting bribes to provide protection to suspected criminals. In addition, prosecuting authorities at each level will make a priority of supervising appropriate local administrative departments and public security sectors to prevent any illegal behavior, such as covering up crimes or imposing fines rather than prison terms, she said.
"The key to tackling such an issue is to eliminate corruption in law enforcement sectors and other administrative authorities," said Zheng Chuankai, a lawyer from the Beijing Lawyers Association. "The quality supervision sector should also tighten up supervision to prevent such crimes."
According to Huang He, director of the SPP's case investigation and supervision department, the number of food-safety-related crimes being investigated has risen sharply.
He said that the Supreme People's Procuratorate and the Supreme People's Court jointly issued a notice in 2013 to stipulate imposing severe punishment on suspects involved in food-safety crimes.
Figures provided by the SPP show that 3,726 suspects were arrested for allegedly manufacturing and selling poisonous and harmful food between May last year and the end of April this year, for a year-on-year increase of 136 percent.
Weak supervision by authorities and misconduct among some law enforcement officers are mainly blamed for the frequent occurrence of such crimes, he said.
According to the SPP, national prosecuting departments have supervised public security authorities conducting criminal investigations in 654 cases between May last year and April, for a year-on-year increase of 415 percent. The cases involved 825 suspects.
Food safety crimes often occur on the black market, He said, where raw materials are unregulated and some underground factories without business licenses are dirty and use poor equipment.
"Most of the suspects are running small-scale workshops in remote suburban areas, and they usually work at night to keep the police from tracking them down," he said.
Food safety crimes tend to be professional and organized, with gang members assuming different tasks, including purchasing raw materials, manufacturing, processing, packaging, transporting and selling to form a complete chain, he said.
One typical case occurred in February, when Xiong Zhi and seven other gang members were convicted of manufacturing and selling fake brands of baby formula.
They received prison terms ranging from seven to 15 years, along with fines of up to 7 million yuan ($1.13 million).
Xiong had bought packages of ordinary milk powder in the Inner Mongolia autonomous region at a low price without obtaining a license for producing milk. He then processed the powder illegally and sold the milk in markets under famous foreign brand names at a huge profit.
Huo Yapeng, senior official at the SPP's dereliction of duty investigation department, said the department faced practical difficulties in gathering solid evidence of such crimes because of the complex examinations needed to identify specific food ingredients.