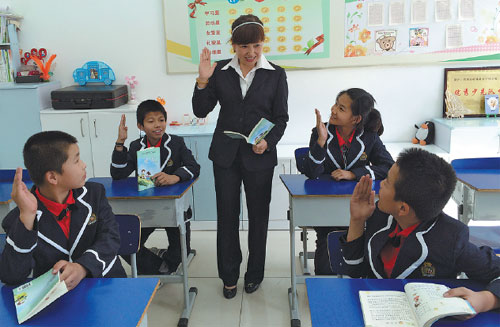 Li Xiaoyu, who specializes in teaching children with disabilities, interacts with students during a Chinese class at Jixi Special Education School in Heilongjiang province last year.  Provided to China Daily
Li Xiaoyu had dreamed of being a police officer since she was a little girl.
"Against expectations, I became a teacher after graduating from Zhaodong Normal College in 1993," she said.
"But 18 years ago, I became a policeman's wife after marrying my husband, Wang Hongwei," said Li, 43, now a teacher at Jixi Special Education School in Heilongjiang province.
"I had no idea what special education was and stupidly thought it was a special school for training soldiers. Then, I was recommended for a special education major at my college after obtaining high scores in the college entrance exam in 1993," she said.
Until she began college, she found what she had learned so far had nothing to do with being a soldier.
"However I found the sign language was beautiful and I fell in love with special education, especially after becoming a teacher at the only school in Jixi dedicated to students with disabilities," she said.
Li believes that a loving heart and persistency are keys to being a qualified teacher of special education.
Most of her students who are deaf and cannot speak are from poor families. When a student enters the school, the first thing Li does is to get to know his or her family situation.
During the past 18 years, she has often given students her daughter's clothes, most of which are relatively new.
"Our school is a boarding school. When students get sick, I take them to the hospital and then bring them to my home where I can cook some food for them," Li said.
"To them, I am both their teacher and mother when they are far away from their parents.
"Most of the students are quite timid when they first come to the school. They need more spiritual care in addition to care in their daily lives."
Li said special education schools are responsible for teaching students knowledge as well as promoting their skills for daily life and improving their personality traits.
In 2009, six of her eight students graduated from the school and passed the entrance examination to Changchun Special Education College.
After graduating from the college, the students found jobs in cities including Beijing, Tianjin and Shenzhen.
One parent told Li: "I never thought that my child could achieve so much, since he was born with a disability. It is the school and the teachers that have changed his life."
Li said, "It makes me happy to see those who are deaf, mute or have mental health problems integrate into society."
Besides being a teacher, Li also helps with the work of her husband, a police officer with the Criminal Investigation Branch of the Jixi Public Security Bureau.
In 1998, the branch captured a criminal gang which had four members who could not hear or speak. Difficulties arose at their trial because the four couldn't read, and there was no one at the bureau who could use sign language.
Li proposed helping her husband to act as a sign-language interpreter during the trial, and her school approved the Jixi Public Security Bureau's request.
Since then, she has undertaken sign-language interpreting nearly 100 times in her spare time.
"Due to my contact with deaf-mute people and a training course in psychology, I tell deaf-mute offenders that the public security bureau can consider the situation from their viewpoint and try to help them. The method is effective," Li said.
On June 30, Li was in a car accident on her way to carry out sign-language interpreting in Lishu district, about 35 km from the center of the city.
"Our car overturned and rolled to roadside. When I climbed out, I had no severe injuries, so I continued my way by a taxi. After finishing the work, I could hardly stand."
She asked her elder sister to take her to a hospital, where she was diagnosed with soft-tissue damage and a slight concussion.
"I only thought that time is so precious to prevent deaf-mute criminals from feeling anxious or emotional," Li said. "I didn't feel pain until the trial ended."
Contact the writers through zhouhuiying@chinadaily.com.cn