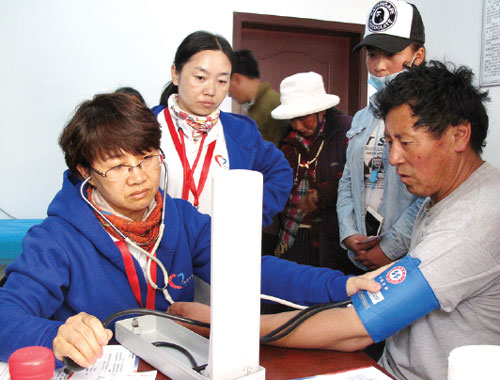 Physicians from Beijing check the blood pressure of a middle school teacher in Chali town in the Aba Tibetan and Qiang autonomous prefecture. Li Yang / China Daily
More than 800 physicians have just spent a week providing free medical treatment to residents of one of China's most isolated regions, and the seven-day excursion was beneficial to both parties, as Li Yang reports from the Aba Tibetan and Qiang autonomous prefecture, Sichuan province.
"I can hear!" Emato said with tears in her eyes as she held the hands of two practitioners of traditional Chinese medicine who had just performed 10 minutes of acupuncture.
It was the first time the 22-year-old Tibetan had heard the word clearly since her hearing was severely impaired after an illness when she was 3 years old.
The condition kept Emato out of the local schools, and her daily life in Shashiduo, a small town in the Aba Tibetan and Qiang autonomous prefecture in Sichuan province, has revolved around helping on the family farm and grasslands.
"Her hearing impairment is mainly caused by pressure from the cervical vertebrae (which support the head). She still needs further checks and treatment on the vertebrae," said Deng Tiancai, a Chinese-Malaysian doctor of traditional Chinese medicine.
Emato is one of 9,175 people benefiting from "Building Chinese Hearts", a project sponsored by pharmaceutical companies and overseen by the Chinese government, which was set up after the 2008 Wenchuan earthquake, which killed more than 80,000 people. The project is active across the Tibetan autonomous region and in areas of provinces such as Sichuan, Yunnan, Gansu and Qinghai that are home to large populations of ethnic Tibetans.
Buddhist monks and nuns accounted for 1,799 of the 9,000-plus patients, but the overwhelming majority were poorly paid herders and farmers.
Volunteers and vaccines
Deng was one of 800 practitioners from around China who volunteered to take part in a seven-day excursion to provide free treatment in Aba, which is home to about 900,000 nomads and farmers from different ethnic groups, including Tibetans, Qiang, Hui and Han Chinese. Tibetans account for 54 percent of the total mix.
Air China provided 10 planes to transport the physicians and medical supplies to mountainous Aba.
The medical team consisted of three academicians from the Medical Sciences Department of the Chinese Academy of Engineering, and more than 800 physicians, all of whom have been educated to professorial level. Upon arrival in Aba, the main team was divided into six units, which visited 35 towns in six counties in the prefecture.
In the other seven counties, four other medical teams screened locals for congenital heart disease, while another, from the Dongzhimen Hospital in Beijing, examined people for signs of brain paralysis. Five children underwent surgery. Meanwhile, two teams of ophthalmologists from Tongren Hospital and Anzhen Hospital in Beijing - two of China's top centers for eye surgery - performed cataract operations, curing more than 50 people.
A couple of smaller medical squads were also sent deep into the grasslands to provide treatment to isolated herders and farmer.
After conducting physical checks on 300 children, the medics screened six of them for heart disease. Although only one case was confirmed, Zhang Zhe, a cardiologist at the Peking University No 3 Hospital, was concerned that some children may have slipped through the net: "I'm worried that many children who live with their parents in the far pastures will miss the chance to be screened. Local public hospitals should pay special attention to screening work to diagnose the disease as early as possible."
Despite the government's push to improve living standards in these isolated regions, local herdsmen and farmers still have endemic conditions such as Kashin-Beck disease, skin disorders and gynecopathy, diseases that only occur in women. All the complaints are associated with poor hygiene and a nomadic life-style.
The symptoms of Kashin-Beck disease, which affects the bones, include pain and stiffness in joints, and enlarged joints in the fingers. In some parts of Aba, one in seven people have the disease, and the high incidence rate is attributed to a lack of selenium and iodine in the water. High blood pressure, diabetes, and heart and lung diseases are common complaints among the monks and nuns.
Fu Wei, a general surgeon and deputy Party chief at Peking University No 3 Hospital, led 10 experts from 10 departments, including cardiology, neurology, neurosurgery, rheumatism, orthopedics, gynecology, pediatrics and ophthalmology, to Aba. "We conducted research into the diseases in Aba and then organized this team of volunteers to better serve the needs of local people," he said.