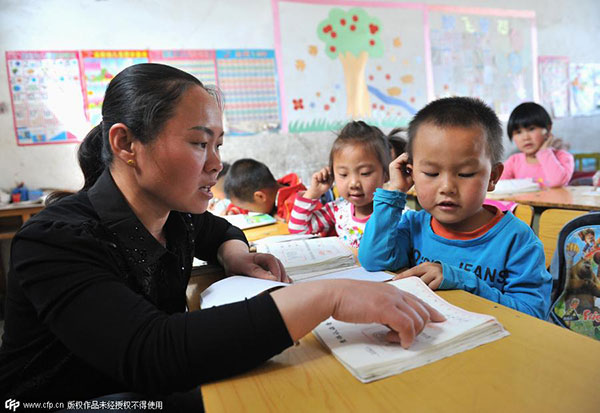 Gao Yanmin teaches children at a school in Xiagu village, Quyang county, Baoding, Hebei province, May 13, 2015. [Photo/CFP]
The case of a woman abducted, trafficked and sold 21 years ago who has been hailed a "role model" has caused controversy online.
Gao Yanmin was sold to a remote village in Baoding, Hebei province only to reappear as a rural school teacher, reported Hushang Daily, a local paper based in Xi'an, Shaanxi province on Thursday.
Gao's story ignited public anger about the authorities' inaction after her story was reported in 2006. She was set up as a role model for people who had been trafficked after settling down in the village where her buyer lives and taught local children in school.
She was defrauded by two women who said they could find her a job at a train station in Shijiazhuang, Hebei province in 1996. She was kidnapped and sent to a man in Quyang county in Hebei to be his wife for 2,700 yuan after being resold three times.
While living with the man she tried to run away but was tracked down and beaten. She attempted suicide three times before, faced with the reality of her condition, she settled down.
She had children and has worked as a teacher since 2000 in a local primary school where there was a lack of education resources. She has devoted her life to the students with negligible pay and bought books for pupils who didn't have enough money.