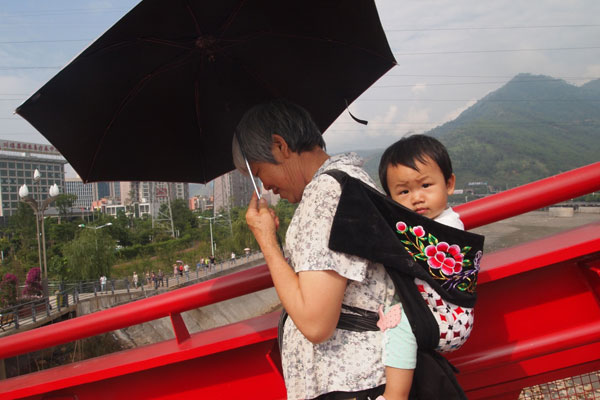 A local senior walks with her grandchild on Anning River Bridge July, 28, 2015 in Miyi County, China's Southwestern Sichuan province. [Photo by Liu Xiaozhuo/chinadaily.com.cn]
Miyi, a county of Panzhihua in Sichuan province, is taking strides in becoming a winter health resort.
The county has attracted visitors from all over China's southwestern region and is committed to develop a nationwide resort for maintaining winter health.
Miyi benefits from favorable climatic and geographical conditions with the annual mean temperature 19.7 degrees Celsius.
According to party secretary Wang Biao, daily average sunshine is 8 hours, which is good for people to remain healthy in winter.
In addition to the climatic conditions, Miyi is confident about its environment. It has good air quality on more than 350 days a year and the forest coverage rate is 62 percent. Data from China's sixth nationwide census showed that average life expectancy is 75 years.
Wang said that with increasing numbers of tourists, the county is making great efforts to build infrastructure, including hotels and resorts.
The county is developing a health care system to meet tourists' needs.