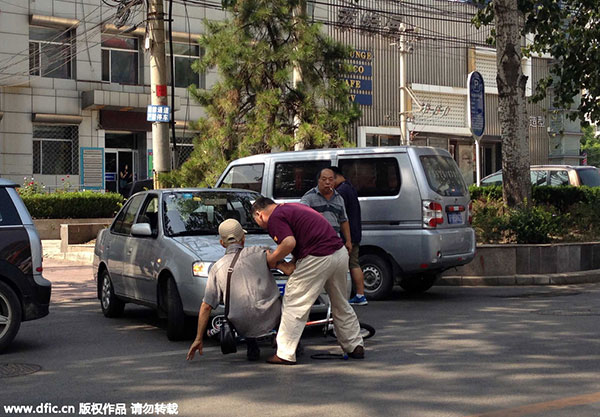 A passerby helps an old man who was hit by a car, in Beijing, Sept 9, 2014. [Photo/IC] 
A draft legislation has been drawn up in Beijing to protect the Good Samaritans in the capital from false accusations by people they help, China News Service reported.
Those who were helped but fabricated facts to frame the helpers in order to extort money, will bear legal liability, according to the legislation.
The draft aims to encourage individuals with professional medical skills to conduct first aid for the injured before paramedics arrive and provide them with legal protection.
A series of cases of people suing those who helped them during accidents have been reported in recent years, making it a controversial topic whether to help those in need.
Earlier this month, an 18-year-old in Pengzhou, Sichuan province, tried to help an old man who fell to the ground, but was accused of hitting the senior with his bicycle. Thanks to video footage, the young man was proved innocent.
Such cases have been cited as the reason behind some people's indifference to injured people in accidents, which have also been criticized by many.
In 2013, Shenzhen issued China's first legislation to protect Good Samaritans from malicious legal action.