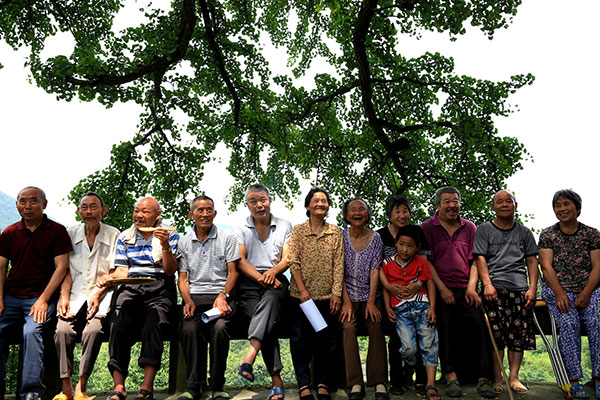 Senior citizens wait for their photos to be taken at a village in Huaying, Sichuan province, in June. QIU HAIYING/CHINA DAILY
A national survey on China's aging population, the largest such effort of its kind, will start on Saturday, authorities announced on Tuesday.
The China National Committee on Aging said the sample survey will include about one-thousandth of China's population age 60 and older. The information collected will be used to create policy that addresses problems related to China's rapidly aging population.
"The survey is intended to provide a clear picture of living conditions of people age 60 or older in China, including their health, housing and access to medical care," said Wang Jianjun, deputy head of the committee. "It will provide a basis for national policymaking for the next five years or even longer."
The survey will cover 223,000 people in both urban and rural areas in all provinces, municipalities and autonomous regions on the Chinese mainland. About 40,000 staff members, most of them from civil affairs authorities across China, will conduct the monthlong survey.
Wu Yushao, director of the China Research Center on Aging, said that key data from the survey will be released at the end of this year, and a complete report is likely to be made public by the end of next year.
The Ministry of Civil Affairs said the number of mainland people at least 60 years old was 212 million at the end of last year, an increase of 20 million from 2012, and 15.5 percent of the total population. The China National Committee on Aging said 35 million elderly have lost part or all of their ability to take care of themselves.
China has been conducting similar surveys every five years since 2000. The last survey of the elderly, in 2010, polled 20,000 people in 20 provincial-level areas.
Problems associated with China's rapidly aging population have become prominent in recent years, including a heavier social burden and soaring medical bills, and in many areas the problems are worsened by poverty. A report from the National Health and Family Planning Commission said earlier this year that elderly people in rural areas face more challenges than those in cities.
In 2013, elderly people in rural areas had an annual income that was just one-third of the income of elderly urban residents, and they face greater medical burdens and lag far behind in social security compared with their urban peers, the report said.
wangxiaodong@chinadaily.com.cn