A new support plan will benefit 3.3 million rural teachers and thousands of students, with the goal of achieving education equality in urban and rural areas.
"The plan first confirmed rural teachers' contribution, which was ignored in the past," said Yuan Guilin, a professor of education at Beijing Normal University. "It also mentions resuming the nurturing of rural teachers in college, which guarantees teachers' quality in rural areas."
Additionally, Yuan said, the plan aims to treat teachers in urban and rural areas the same.
To support rural teachers, the State Council released a plan in June that aims to boost the number and quality of teachers in rural areas over the next five years.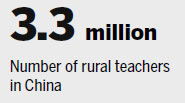 The plan aims to make rural teachers equal to their urban peers and provide equal education opportunity to children in rural and urban areas.
Measures include forming multiple channels to select teachers for rural areas, improving their standard of living, helping them get more training and setting up a reward system, according to the plan.
Rural teachers, education researchers and policymakers are excited about the plan, saying that it will draw attention to rural teachers.
The 21st Century Education Research Institute took action immediately, holding a seminar about the rural-teacher support plan in late June and inviting rural teachers, principals, professors and education officials to share their thoughts about the plan.
The issues of rural teachers were first addressed by President Xi Jinping during a speech at Beijing Normal University in September.