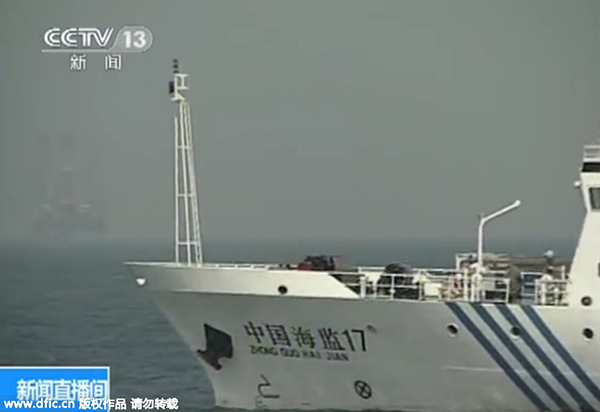 This screen shot from a China Central Television news program on Sept 3, 2011 shows a patrol ship after the oil spill in 2011 that polluted a huge area of Bohai Bay in Northeast China. [Photo/IC]  
ConocoPhillips and CNOOC face public interest litigation as result of marine disaster in 2011
A landmark lawsuit has been filed against two oil giants in a maritime court over the oil spill in 2011 that polluted a huge area of Bohai Bay in Northeast China.
The suit, filed against ConocoPhillips and China National Offshore Oil Corp, is the first public interest litigation brought by a nonprofit organization over marine environmental pollution to be accepted by a court.
Such a move was not possible until a new environmental protection law took effect on Jan 1.
The China Biodiversity Conservation and Green Development Foundation said on Sunday it had been told by the maritime court in Qingdao, Shandong province, that the suit had been filed.
The law allows any environmental organization registered with a civil affairs bureau at city level or above and that has been operating for at least five years to bring public interest litigation.
Before this case, in June, the Dalian Environmental Protection Volunteer Association demanded 645 million yuan ($105 million) for damage it says resulted from pollution caused by China National Petroleum Corp in July 2010. The claim, the largest made in an environmental case in China, is still under review by Dalian Maritime Court.
The association is a nonprofit organization founded in June 2003 in Dalian, Liaoning province.
The China Biodiversity Conservation and Green Development Foundation is not suing Conoco Philips and CNOOC for compensation, of which the companies have paid about 1.7 billion yuan to the State Oceanic Administration, a government body that supervises and administers maritime affairs.
The foundation said that on public interest grounds it is calling for the two companies to accept responsibility for the damage they caused because four years after the oil spill, remedial work has still to begin.
In a series of spills between June 4 and July 12, 2011, oil in the Penglai 19-3 field in Bohai Bay polluted more than 6,200 square km of water-an area about nine times the size of Singapore.
It caused huge losses to the tourist and aquatic farming industries in Liaoning and Hebei provinces, a report by the State Oceanic Administration said in June 2012.
Penglai 19-3 is one of China's largest offshore oil fields, producing about 160,000 barrels of oil a day.
ConocoPhillips China is a joint venture in which CNOOC, the country's largest offshore oil producer, holds a 51 percent stake, with ConocoPhillips holding the rest.
Under a damage compensation agreement, ConocoPhillips China offered 1.09 billion yuan for ecological losses, while CNOOC paid 480 million yuan and ConocoPhillips China 113 million yuan for environmental protection efforts in Bohai Bay.
The compensation for fishermen has been sent to the governments in Hebei and Liaoning provinces, according to a statement by the oceanic administration.
However, disputes remain as oil spills continue to affect the area. In December, 21 aquaculture farmers sued the two oil giants in Tianjin Maritime Court over the oil spill.
Sea cucumber farmers from Leting county in Hebei province demanded compensation of 148 million yuan to cover their economic losses and litigation costs. They said the oil spill destroyed a large number of sea cucumbers, with losses amounting to 140 million yuan. The result of this case is still pending.
Ma Jun, director of the Institute of Public and Environmental Affairs, an NGO that researches water pollution, said it is hard to predict the outcome of the ongoing public interest litigation.