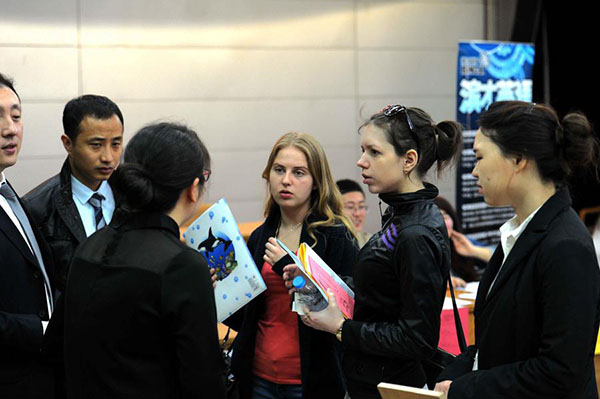 Foreign students talk with recruiters from local companies at a job fair in Harbin, Northeast China's Heilongjiang province, April 25, 2015. [Photo/Xinhua]
Shanghai has approved the first work permit for an international student who has just graduated, initiating the city's new policy aimed at attracting and retaining global talent.
The policy eliminates the requirement of at least two years of work experience for foreign students who graduate from Shanghai universities with a master's degree or above and seek a job in the Shanghai Pilot Free Trade Zone or the Zhangjiang National Innovation Demonstration Zone.
"Through my intern experience, in which I learned business practices in this international financial center and the diligence and wisdom of the locals, I found that getting a job here would be a win-win option," said Albert Saputra, 26, from Indonesia, who will receive his two-year permit in seven days.
As China's most cosmopolitan city and a magnet for domestic and international talent, Shanghai released a new talent policy on June 29.
Foreign students graduating from Chinese universities with a bachelor's degree or above who aim to bring entrepreneurial skills to the city will get a two-year residence permit as well, according to the new policy.
Saputra received a master's degree in marketing from Shanghai Jiao Tong University. He had interned since February at the Shanghai office of Nexans, a French cable manufacturer, but planned to return home for work.
Saputra said many of his peers intended to work in Shanghai after years of studying there, but they gave up because they had inadequate knowledge about the business environment and couldn't find internship experience.
zhouwenting@chinadaily.com.cn