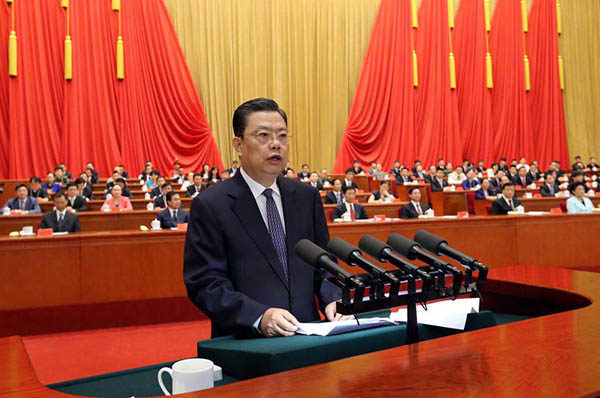 Zhao Leji, head of the Organization Department of the CPC Central Committee, which oversees the Party's all personnel and structural affairs, reads President Xi's congratulation letter during the All-China Students' Federation (ACSF) in Beijing on July 24, 2015. [Photo/Xinhua]
BEIJING - China's national organizations for youth and students opened their quinquennial congress on Friday.
Chinese top leaders and Party and government authorities have been giving great support to the country's students and younger generation. The following are some official pronouncements on this topic:
-- In May, 2013, President Xi Jinping wrote to Peking University majors in archaeology and museology and told them to "integrate their own dreams with the national cause to make great achievements."
-- To mark China's Youth Day on May 4 in 2013, the president visited the China Academy of Space Technology and talked with outstanding young people, calling on young Chinese to "dare to dream, work assiduously to fulfill their dreams and contribute to the revitalization of the nation."
-- In the same month, Xi encouraged college students to be "ambitious as well as down-to-earth" about their career while visiting a vocational training center during an inspection tour of Tianjin.
He also urged authorities to provide better vocational training.
-- In June 2013, Xi called on the Communist Youth League of China (CYLC) to reinforce belief in the Communist Party of China (CPC) among its members. Speaking to the leadership of the CYLC Central Committee, the president said the CYLC should "help young people to set high ambitions, strengthen their belief in the socialist path with Chinese characteristics, equip them with scientific theories and inspire them with a historical perspective."
-- In December 2013, Xi wrote to a voluntary service team from Huazhong Agricultural University, expressing appreciation for the young volunteers' work and encouraging them to contribute to China's revival.
-- In January 2014, the president replied to a letter from a college graduate working as a village official in eastern China's Shandong Province, calling on young rural officials to contribute more to the country's rural areas and farmers' welfare.
-- In another letter to a group of college graduates who volunteered to be teachers in the country's underdeveloped west upon graduation, the president praised their passion and encouraged more young people to "make achievements at the grassroots level" and realize their dreams.
-- While visiting Peking University on May 4, 2014, Xi urged the country's young people to "study diligently, improve their moral character and hone their perspectives and honesty", stressing that they must adhere to socialist values.
-- In correspondence with volunteers of the Nanjing 2014 Summer Youth Olympic Games in July 2014, Xi encouraged them to "spread Chinese culture, tell Chinese stories, and to cast a good image of Chinese young people with youthful passion".
-- On other occasions, the president urged Party and government authorities to "fully trust", "earnestly care about" and "be strict with" the younger generation.
-- The State Council, China's cabinet, has issued a series of policy documents, including on mass entrepreneurship and college education reforms, to promote young people's career development.
-- National and local legislators and political advisors have put forward over 4,000 motions, proposals and suggestions since 2013 on youth-related policies, covering issues ranging from business startups by young people to protection of minors.