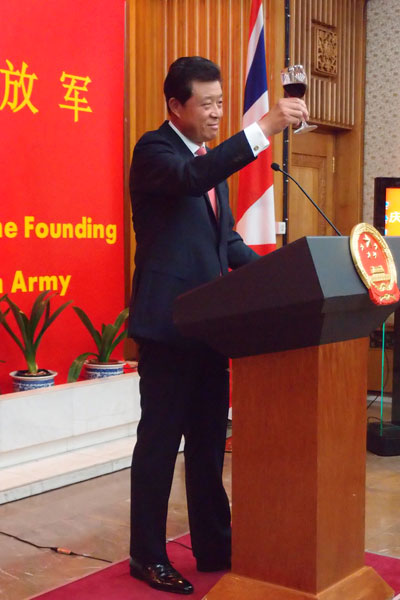 Liu Jianming, China's Ambassador to the UK, holds his cup high for a cheers. [Photo/Zhang Zhouxiang]
China will continue contributing to world peace with its military force, as well as promoting the military cooperation with the UK and other Western countries, said Liu Jianming, China's ambassador to the UK, on Thursday.
The Chinese embassy held a reception to commemorate the 88th Anniversary of the Founding of the People's Liberation Army (PLA), on which Liu delivered a speech.
"88 years is not long compared with the histories of the armies of some countries," he said, "However, these 88 years have been highly eventful. These glorious 88 years have witnessed the growth of the PLA into a strong military force."
He also said that the PLA pursues "a security concept featuring common security, comprehensive security, cooperative security and sustainable security. On the basis of mutual respect, equality, mutual benefit and win-win cooperation, China's armed forces will continue to carry out all-round cooperation with armed forces of other countries."
He is echoed by Yao Min, Defense Attache of the embassy, who said that the PLA would cling to the principles of peace and respect to other nations' sovereignty.
2015 is also a special year to China-UK relationship because President Xi Jinping will pay a State visit to UK while both will hold cultural seasons for each other, Liu said. Bilateral cooperation in trade, investment, finance, education, science and technology, counter-terrorism and law enforcement have all made unprecedented progress.
Especially, the year started with the visit by a Chinese navy escort group at Portsmouth. "The Year of the Sheep started with ships," Liu said, "there couldn't have been a better beginning to a whole year of military-to-military exchange."
"As we embrace the 'golden time' of China-UK relationship, the Chinese and British militaries will rise to the task of continuing to enhance understanding and strengthen mutual-trust," Liu concluded.
Yao Min, Defense Attache of the Chinese Embassy to the UK, delivers a speech. [Photo/Zhang Zhouxiang]