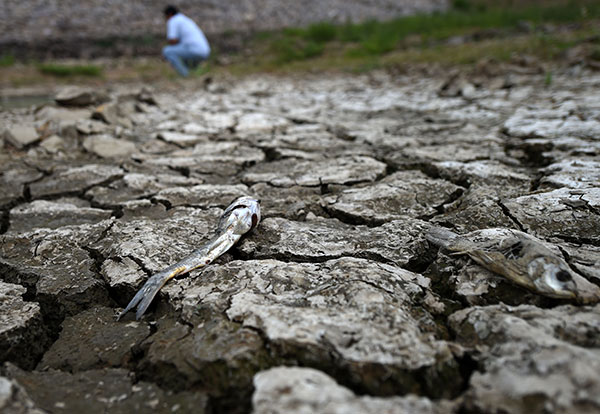 Dead fish lie in a dry riverbed in Dalian, Liaoning province, on Tuesday. Northeastern China is experiencing a drought. Li Gang / Xinhua
The heavy downpour in eastern and southern China has triggered flooding in many places, leaving four people dead and five missing in Fujian province.
Torrential rains are expected to linger in these regions until Friday.
The casualties were caused when rainstorms hit Liancheng county, Fujian province, on Wednesday, dropping more than 20 centimeters of precipitation within 24 hours and flooding 17 townships, according to the county government.
Around 323,700 people in five counties in Fujian province were affected by the torrential rains, which also inundated as much as 187,200 hectares of farmland and destroyed 3,200 houses, the provincial flood control office said on Thursday.
Fujian, as well as other places in eastern and southern China, will continue to experience heavy downpours on Friday, with up to 18 centimeters of rainfall in certain areas, the China Central Meteorological Station said.
Unlike the southern region, northeastern provinces are experiencing drought due to extremely low rainfall in July.
Total farmland affected by drought in Liaoning, Jilin and Heilongjiang provinces was around 644,000 hectares, accounting for 30 percent of the nation's drought-stricken farmland, according to the State Flood Control and Drought Relief Headquarters.
The country has seen 1.68 million people and 1.78 million head of livestock affected by drought this year, it said.
Zhang Shun, a farmer from Qiqiha'er, Heilongjiang, is greatly concerned about reduced income from his thirsty land.
He has grown corn on the 200 hectares of land, but the lasting drought has postponed the harvest. "My land is too large to irrigate, and there is little water," he said.
He expected the drought to reduce his yield by at least 30 percent this year.
To control the drought and reduce economic losses, the three provinces have diverted water from reservoirs and allocated 370 million yuan ($59.6 million) to finance drought-control projects, the national drought control bureau said.
The heavy rains in recent days in Heilongjiang have been too little for the parched land, Zhang said.
The national meteorological station said the northeastern region will have rain until Saturday, but most areas will see daily rainfall of less than 10 millimeters.
In the northwest, residents in the Xinjiang Uygur autonomous region will continue to suffer from a heat wave until Saturday, with the temperature in the Turpan Basin reaching 44 C, it said.
Zhou Huiying in Harbin contributed to this story.
zhengjinran@chinadaily.com.cn