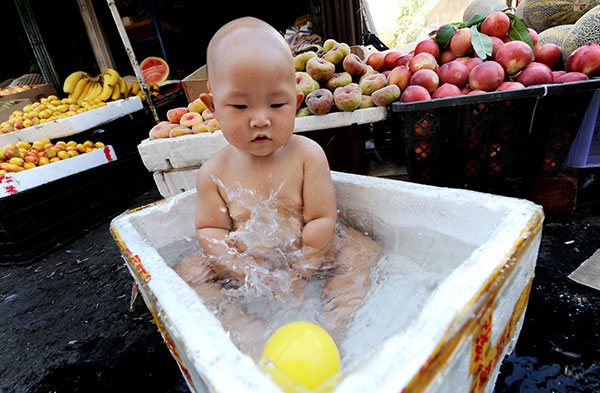 A 11-month-old baby sits in a homemade bathtub in Urumqi, the Xinjiang Uygur autonomous region, on Tuesday. Zhang Wande / for China Daily
As a heat wave continues to scorch Northwest China's Xinjiang Uygur autonomous region, which has topped the list of the hottest places in China for more than a week, Xinjiang people said the difference between them and a steak thrown on a barbecue is a pinch of salt.
"You can literally feel your skin sizzling under the sun. My wife reminded me to bring salt and pepper with me and rotate myself properly so I can be roasted evenly. I know she was just joking, but it's been too hot for too long," said Wang Liyuan, an Urumqi resident. The temperature in the regional capital of Urumqi reached a record 41 C on Wednesday.
On Wednesday, the Xinjiang Meteorological Department issued red heat warnings to cities around the region for the seventh day. People in seven of the 16 major cities in the region experienced temperatures over 40 C on Wednesday.
Red represents the most severe weather in a four-tier color-coded weather warning system, followed by orange, yellow and blue. Under the red alert, outdoor work should be suspended due to the risk of heatstroke.
According to the China Central Meteorological Station's website, the top six hottest places in China in the afternoon were all in Xinjiang. Turpan city in Turpan prefecture, also known as the "fire state", topped the chart with temperatures reaching 46 C on Wednesday.
The "barbecue mode" in Xinjiang will last until the end of the week, according to the local meteorological department.
Suning, a leader in the home appliances industry, has sent 100 mechanics to Xinjiang to install air conditioners in the region.
Although the heat has been a burden on people in Xinjiang, some have seized a hot business opportunity.
Chen Jiaqi, from Guangzhou in South China's Guangdong province, runs an online store selling a spray that can help people cool down during the heat. Sales of the spray have increased more than 30 percent since the heat wave hit Xinjiang, and most of the new buyers are from the region.
"A guy from Xinjiang said he wanted to be my agent there to sell the spray," Chen said on Wednesday. "It's hard to imagine living in a place that is 46 C, and it's kind of scary."
cuijia@chinadaily.com.cn