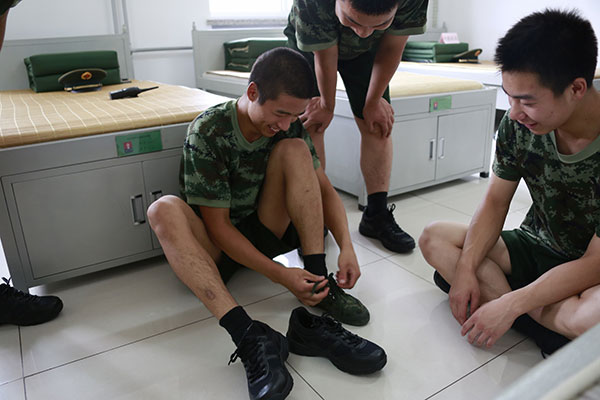 Armed military police officers try on their new black training shoes on Tuesday. The shoes replace rubber footwear that has been used by the People's Liberation Army since the 1950s. Xian Lu / Xinhua
Members of the People's Armed Police are finding their feet more comfortable in a new type of training shoes.
Newly equipped troops in the domestic military forces have found a cure for smelly feet, and soldiers should be less vulnerable to foot-related diseases.
The new breathable black shoes will be distributed to all Armed Police units by the end of July, according to the force's website.
"Liberation shoes", a kind of rubber footwear used by the Chinese army since the 1950s, will gradually be decommissioned from the service.
Man Xiangdong, the Armed Police officer in charge of shoe design, described the new shoes as "anti-bacterial, antifungal and odor resistant", saying they give better support to the wearers' ankles.
Li Zhixiang, a member of the Armed Police, praised the new footwear on the Armed Police website. "It's light. It's like stepping on spongy cushion while running," he said.
"Our dorm is no longer full of the smell of feet since we got the new shoes last year."
Before going into mass production this year, the Armed Police tested the shoes and solicited the opinions of nearly 180,000 soldiers and officers, said Zheng Jianchun, a logistics official with the Armed Police.
The traditional liberation shoes, in dark green or camouflage color, are still widely used by most PLA units. After several rounds of improvements, the shoes are light and easy to carry.
The shoes passed the test of revolutionary years and have been the main footwear of the Chinese army since the 1950s, but they have their limitations.
They are neither puncture-proof nor water-resistant, and the low-waist design easily lets sand into the shoes and does not protect the ankle.
In recent years, liberation shoes have been gradually replaced by combat boots in military training, but soldiers still wear them during their downtime.
Liberation shoes still dominate Chinese peacekeeping troops' footwear on overseas missions. According to peacekeepers, the practical shoes are popular in African countries and sometimes can be exchanged with foreign soldiers for much more expensive European military boots.