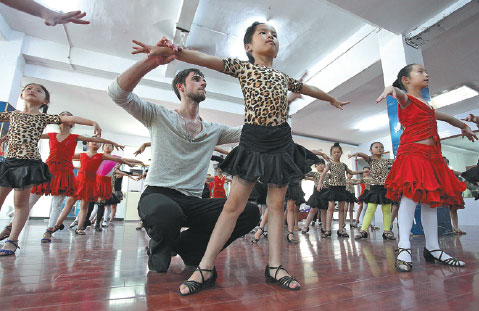 A dance teacher from Russia instructs children at an art school in Dongxiang, Jiangxi province. [Photo by He Jianghua/for China Daily]
A national problem
However, the conditions at schools in China's eastern boom cities are not necessarily much better than inland.
Bao Huaying, who recruits foreign teachers and talent at the International Office of Beijing Foreign Studies University, described the low salaries paid to foreign teachers as "a big problem" facing the school.
"Over the years, the changes in the salaries paid to foreign teachers, a group that's administered under a different system in China, haven't kept pace with the rises in the average salaries of Chinese people and in the general cost of living," she said.
Some present and former teachers have claimed that schools have subtly coerced foreign staff members to dissuade them from asking for a raise.
Donald Guadagni, who taught English at a college in Ningbo, in East China's Zhejiang province, said the college usually wouldn't renew the contracts of foreign teachers who requested a pay raise.
"That is supposed to be against Chinese labor law, but we all know that enforcement is weak," said the 56-year-old United States native, who described himself as having "a passion for teaching" and has lived in China for six years.
"This is why people switch colleges. Because you can generally get more money if you go to a new college. You can bargain for more money," he said.
Last year, Guadagni left the college in Ningbo, where he had worked for four years, and took a post at a university in Taizhou, which is also in Zhejiang. "There's a minor rise in salary, and other parts of the contract were better, such as a higher travel allowance," he said.
In 1984, the average salary for a foreign worker was 500 yuan to 1,500 yuan, six to 18 times more than that of regular Chinese employees, whose average annual salary that year was 979 yuan, according to official documents.
However, salaries rose several times in the years that followed, and by the turn of the century, a foreigner with a bachelor's degree and two years' work experience could earn 1,200 to 2,000 yuan a month, according to a salary standard released by the State Administration of Foreign Experts Affairs.
Although small, the salary was still higher than the average annual salary of Chinese workers - 9,371 yuan - but the disparity was no longer as wide as before. Nevertheless, high-level talent and experts from abroad, such as prominent foreign scholars, professors and associate professors, could earn as much as 4,800 yuan per month.
Guadagni, who has researched the related government policies and guidelines, said the standard salary for foreign teachers was established in 2004, and it hasn't changed in the past 11 years.
"This is probably part of the teachers' complaint because everyone's salaries are going up, except for the foreign teachers. Their salaries are artificially low," he said.