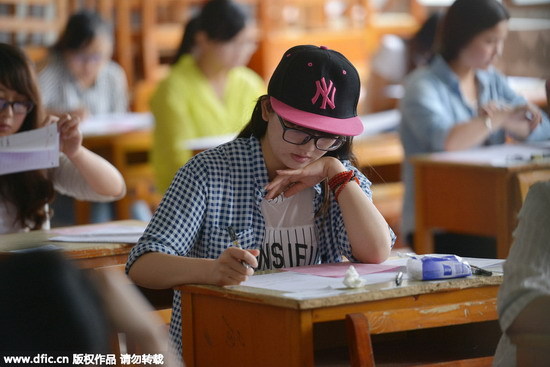 Chinese students take part in the first examination of the national college entrance exam, also known as gaokao, at a school in Guiyang city, southwest China's Guizhou province, on June 7, 2014. [Photo/IC]
Colleges are currently offering admission notices to freshmen, but Ni Shuyi, a graduate from an elite high school, is not interested, since she received an offer from the University of California, San Diego, in March.
Ni is by no means alone in securing a place at a university abroad. She said classrooms at her school in Shanghai were nearly empty in the months leading to June 7 and 8, when the gaokao, the college entrance exam, takes place.
Education Ministry figures show that about 10 percent of, or more than 1 million, high school graduates did not take the gaokao in each of the past five years. About 20 percent of high school graduates in some top schools in cities such as Beijing and Shanghai have chosen to study overseas, according to the ministry.
This resulted in the Chinese student population abroad rising to 400,000 in 2013, and the figure is continuing to increase, the ministry said.
Special classes for students applying to universities overseas have become common at schools nationwide to help them prepare for the TOEFL and SAT US admissions tests.
Agencies that help students who want to study abroad said the summer used to be a busy time as those with disappointing gaokao results sought places overseas, but this is no longer the case.
Teng Zheng, deputy general manager of Shanghai CIIC Education International, said: "Students no longer only regard overseas education as an alternative if they fail the gaokao. Instead, it's becoming some people's first choice."
Over the past few years there have been attempts to reform the gaokao system in response to complaints that it is not a scientific way to measure students' academic performance and abilities.
"Leading domestic universities are aware of the importance of attracting outstanding freshmen," said Zhou Haiwang, deputy director of the Institute of Urban and Population Development Studies at the Shanghai Academy of Social Sciences.
"Some universities operate independent recruitment tests to select talent.
"But domestic universities should re-examine the setup of majors and what knowledge and skills students expect to obtain and make the output from the four years of study more effective."