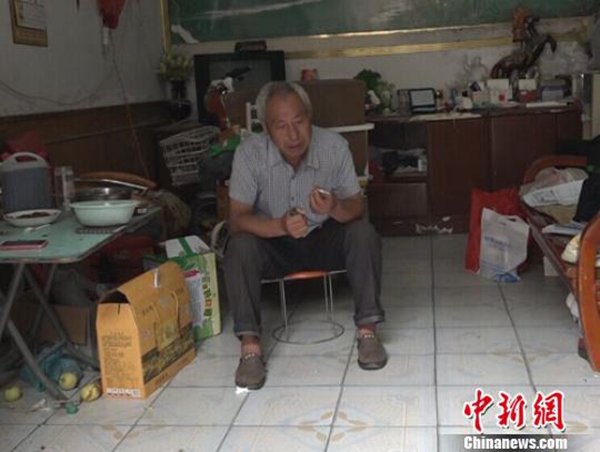 Zhao Zuohai at his rented house in Shangqiu, Central China's Henan province, July 21, 2015. [Photo/chinanews.com]
Zhao Zuohai, 63, who wrongly served 11 years in prison for murder before being freed in 2010 when his "victim" showed up alive, has been reduced to poverty after spending almost all of the 650,000 yuan ($105,000) he received in compensation, chinanews.com reported.
Zhao, a farmer from Zhaolou village, Zhecheng county, Shangqiu city in Central China's Henan province, said he would return to his village to farm again or beg on the streets depending on whether his final "investment" returns.
His wife, Li Sulan, who met and married him after his release, is seeking a divorce which Zhao says makes him "very sad".
In 2011, Zhao and his then newly-wed wife were trapped in a pyramid selling scheme. By the time the case was settled in July 2012 Zhao had lost 175,000 yuan.
The couple opened a hostel In April 2012 but closed it after only eight months due to poor management. This incurred a 40,000 yuan loss.
He put his remaining 300,000 yuan into an investment management company in 2013 hoping to earn good interest, while his wife also put 100,000 yuan of her own savings into the company. After initial good returns the investment went sour and the couple faced losing all their money.
"At first, the company gave us interest every month, even one or two days ahead of the deadline. We put our money there for a year and for every 10,000 yuan we could get 200 yuan in interest each month," said Zhao.
"About half a year ago, the company stopped paying interest. We tried to get back the principal, not to mention the interest, but were refused", said Zhao. In November the company's officials were arrested or disappeared.
He tried to get his money back from the company but became involved in skirmishes and was hospitalized. He returned home when his condition improved and used up the remaining compensation leaving him in debt for several months.
"I realize that I'm not good at running a business. If my money could come back, I would do nothing but go back my village to farm. If not, I will become a beggar and wander the streets", said Zhao.
He may also have lost his wife.
Li, Zhao's companion of five years, said: "I will not live with him whether he gets the money back or not."
She said she married Zhao as thanks for his help during hard times and looked after him in the past five years. Her efforts, instead, incurred the insults of others. "I'm determined to divorce", said Li in tears.
Hearing Li's words, Zhao remained silent for a while then said: "My wife can't bear those evil words and wants to leave me. I'm very sad".