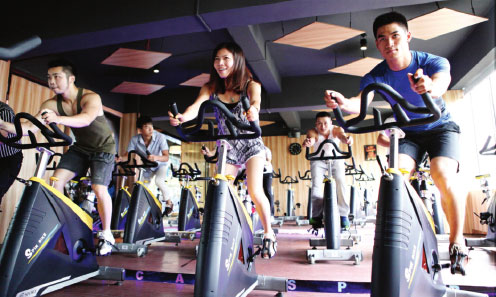 As more well-equipped fitness clubs open in China to meet the rising demand for healthier lifestyles, the fitness industry faces a shortage of qualified trainers. He Jianghua / for China Daily
The nation's fitness industry is growing rapidly, boosted in part by a new wave of workout warriors, who are providing 24-hour availability, personalized training plans and a chic clientele to build their exercise empires. Sun Xiaochen reports.
Every night at about 10 pm, just as the surrounding stores and restaurants are closing for the day, rush hour is beginning at NowFitness, Beijing's first 24-hour gym and workout center.
Entering the well-equipped, two-story facility located in a commercial complex in the capital's eastern downtown, it's hard not to react to the adrenaline rush generated by the scenes on display. The sound of dumbbells smashing together, treadmills buzzing at high speeds and exercisers groaning and creaking competes with a background of electrifying pop music to energize customers and encourage them to work out, no matter what the hour.
Lin Peng, a white-collar employee who lives locally, is one of NowFitness' 500 members and he exercises three times a week at the gym, a 10-minute walk from his apartment.
"It's really cool to have a gym running day and night on your doorstep so you can make full use of your spare time, even late at night. Not to mention the cutting-edge facilities and motivational atmosphere," the 32-year-old said.
Lin is one of a new wave of middle-class Chinese who have enthusiastically embraced exercise as a way of keeping fit. The 2008 Beijing Olympics signaled a shift in China's sporting focus from simply winning medals at major events to extending the benefits of a high sporting profile to public health and well-being.
The appetite for a healthier life-style has resulted in a surge in memberships at fitness clubs, a trend compounded by urban consumption leaning further toward leisure and recreational activities in recent years.
As a result, working as a fitness trainer has become a promising and appealing career choice for college graduates and retired athletes.