Two judges who wrongfully sentenced a man to death in the Inner Mongolia autonomous region in 1996 have been appointed to the trial committee of an intermediate court in the area, raising complaints from the victim's family.
Hu Ercha and Gong Jing were the judges of the intermediate people's court, the top city-level court in Hohhot, who sentenced Hugjiltu to death after his first hearing in May 1996 for a rape and murder. The verdict was sustained the following month by the region's high people's court.
The 18-year-old Hugjiltu, a member of the Mongolian ethnic group, was executed just 62 days after being charged, despite doubts about the evidence against him. Nine years later, Zhao Zhihong, 42, who had been arrested on suspicion of carrying out a series of rapes and killings, confessed to the murder.
In December last year, the regional high people's court - the same court that confirmed his death sentence - overturned Hugjiltu's conviction, ruling that he was not guilty of the rape and murder. The facts in the case were unclear, and the evidence was inadequate, the court said.
The acquittal came 18 years too late, however. Hugjiltu's parents were awarded state compensation of more than 2 million yuan ($322,000).
A person in charge of the department where the two judges serve said on Monday that the appointment is not a promotion and does not suggest that the two judges are immune from punishment if they are found to have committed malfeasance in the Hugjiltu case.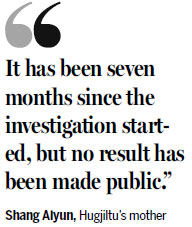 A working group was set up in December to investigate the proceedings of the 1996 trial, and the names of people involved in the case were made public. Li Shengchen, spokesman for the high people's court, said those guilty of misconduct in the investigation and trial will be held accountable for any miscarriage of justice.
Hugjiltu's parents learned about the appointments of the two judges from news accounts in Hohhot Daily on June 27. The report said a total of 20 individuals had been appointed as members of the trial committee of the intermediate people's court in Hohhot.
Hugjiltu's mother, Shang Aiyun, voiced her dissatisfaction with the working group's investigation.
"It has been seven months since the investigation started, but no result has been made public. Why are the two judges still holding their positions?"
Shang said she believes that if the judges violated the law they should be held accountable.
Zhao Zhihong, the real killer, was sentenced to death on charges of murder, rape, robbery and larceny in a series of cases in February by the intermediate court in Hohhot.
Feng Zhiming, the former deputy police chief in Hohhot who was in charge of the investigation of Hugjiltu's case in 1996, was accused in December in a separate case of torture to coerce a confession, dereliction of duty and taking bribes. He remains under investigation.
zhang_yi@chinadaily.com.cn