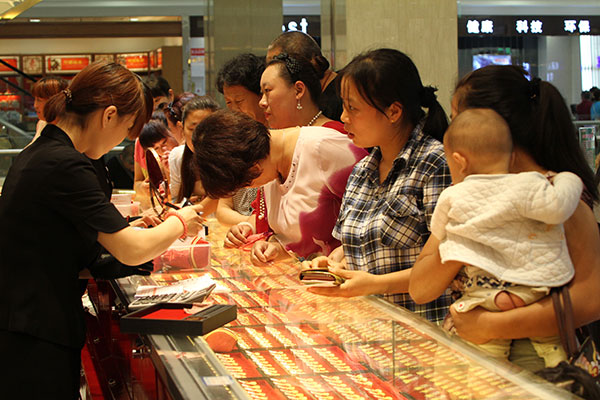 Customers buy gold jewelry at a shopping center in Xuchang, Henan province. China's central bank said that its bullion reserves have increased 57 percent to 1,658 metric tons since 2009. [Photo/China Daily]
Chinese Dama, or middle-aged women, seemed to have lost a lot after they bet big on gold as the price of the yellow metal sank to its lowest level in more than five years.
Many Dama investors recently turned away from the Chinese stock market, which has been on a roller-coaster ride in the past few weeks, and invested on the gold.
But bullion for immediate delivery tumbled as much as 4.2 percent to $1,086.18 an ounce, the lowest price since March 2010.
Gold has fallen out of favor with investors as US Federal Reserve Chair Janet Yellen prepares to raise rates this year, boosting the dollar. While China also updated its bullion reserves on Friday for the first time since 2009, the 57 percent increase to 1,658 metric tons was smaller than had been estimated.
China bought about 604 tons of gold since 2009, second only to Russia, according to data from the People's Bank of China, or the central bank, and the International Monetary Fund. The total holdings make China, the world's biggest producer and fifth-biggest gold owner.
In mid-April 2013, when gold prices fell to a lower level, many Dama investors jumped at the chance for what they deemed a bargain.
It was estimated that the Dama investors bought 300 tons of gold in 10 days. But the exhilarating scenes of Chinese Dama buying out all the gold in every jewelry store has gone sour with the gold price continuing to fall since then.
Chen Sijin, a senior consultant at Royal Bank of Canada's Risk Management Department, wrote in an article in Beijing News that price of the gold jewelries purchased by the Dama investors were generally higher 20 percent than the international gold price.
Different from bullion, they are not investment commodities in the real sense as the jewelries can't be kept to fend off inflation, he said.
The Dama investors who bought gold today won't be able to recoup their costs until the gold price surges to $1,360 an ounce, Chen said.