In a major anti-aircraft drill, brigade simulates range of threats that China could encounter
Even though Chinese film-makers have yet to present an air action movie as dazzling as the legendary Top Gun, which featured Hollywood star Tom Cruise and the F-14 fighter, they will be pleased to know that the Chinese air force is preparing what could be source material for their own such film.
An adversary brigade was recently established by the People's Liberation Army air force and sent to confront the PLA ground force's air defense units during a two-week anti-aircraft drill that concluded on Tuesday.
The brigade has fighter jets, helicopters, electronic warfare aircraft and drones, and all of its aircraft are domestically developed, PLA Daily reported.
In an air defense scenario, the brigade sent helicopters to entice the "enemies" to activate their fire-control radars of the anti-aircraft missiles and later used drones to jam the radars.
As the "enemies" were busy detecting drones, their missiles' locations were exposed to the brigade. It then mobilized fighter jets and electronic warfare planes to strike their rivals' commanding facility and missiles, the report said.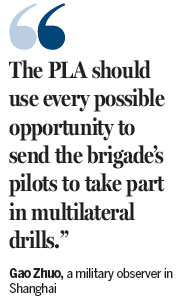 The practice of air force adversary units was first introduced by the US navy, which initiated its Navy Strike Fighter Tactics Instructor program, formerly known as the Navy Fighter Weapons School, in the late 1960s.
The program aimed at improving the US navy aviators' combat maneuvers and survivability in the skies over North Vietnam during the Vietnam War. It later became the topic of a 1986 blockbuster film, Top Gun, which remains one of the most popular air force-themed movies.
The PLA air force introduced adversary simulation in 1987, according to Gao Zhuo, a military observer in Shanghai.
"The PLA is paying more and more attention to its adversary units. Considering that the military continues to condense the number and scale of its units, the fact that it established a new brigade specifically for adversary simulations shows the significance the air force attaches to the brigade," Gao told China Daily.
"Based on the pictures I've seen about the brigade, it has Sukhoi Su-30MKKs, J-10As and J-11Bs. All are the most powerful aircraft the PLA air force owns."
Fu Qianshao, an aviation equipment expert with the PLA air force, said the brigade will simulate a wide range of threats that the PLA's potential adversaries could impose on China, so it must adopt those opponents' strategies, tactics, maneuvers and training methods.
"The PLA should use every possible opportunity to send the brigade's pilots to take part in multilateral drills so they can gain more knowledge and experience of how their foreign peers fight," Fu said.
zhaolei@chinadaily.com.cn