Shop owner who started business with humble cart loves to serve his customers face-to-face
Secondhand bookstores are dying out in Hefei, but one man with a dream and a little out-of-the-way shop is doing his best to preserve the love of old books and make them available to readers.
Zhu Chuanguo's Zengzhi Secondhand Book Store has been located along a narrow street in downtown Hefei, in East China's Anhui province, since 2000. Well-known among teachers, writers and journalists, Zhu was introduced to a larger readership in April, when journalist Zhang Yuzheng wrote about his life.
"In Hefei, if a person really loves books, he may very probably know Zhu's store. I often see friends share photos of the books they buy in the store on WeChat Moments or Sina micro blogs," Zhang said.
Zhu, 53, has enjoyed his new fame. Once Zhang wrote about him, others followed. "There are people coming from all around the city to visit my store every day," he said.
A local publisher is even planning to publish a book, The Last Store of Secondhand Books, about Zhu and his bookstore, which developed from humble beginnings.
In the 1990s, China was undergoing a nationwide reform of State-owned enterprises. A number of SOEs, many of which had their own libraries or reading rooms, went bankrupt and had to sell the books as wastepaper.
Zhu had been working for more than a decade as a shop assistant in a small State-run department store, but in 1992, the store went bankrupt and Zhu lost his job.
"Unemployment brought tremendous challenges to my life and the whole family's, but opportunities could be seen in my plans," Zhu said.
In the first years, Zhu could not afford to own a shop. Instead, he carried books to schools and parks on his bike and set up temporary stalls. Finally, in 2000, Zhu realized his dream by renting the space for Zengzhi, a word which means a store that helps people to enrich their knowledge.
Zhu had personally collected hundreds of books, which he stored at home. In order to attract customers, he brought his personal collection to the shop and made them available to the customers. He never regretted the decision.
"A real businessman seldom collects what he sells," Zhu said. "To do the business, you should read many books and have knowledge about many things."
He describes the decade from 1995 to 2005 as the "honeymoon period" for secondhand book sellers. Urban construction was rapid and many older communities were removed. Families started buying new homes, and some preferred to abandon their books rather than move them.
"In that time, most of the citizens didn't have awareness of collecting books," Zhu said.
Changes are challenging the business case for owning such a store these days.
The monthly rent of Zhu's shop has increased from the original 800 yuan ($130) to more than 3,000 yuan, while his profits have been falling since 2006, mainly because of the popularity of the Internet and online bookstores, including those that feature secondhand books.
Zhu has refused to do business online because the new model is meaningless to him.
"The primary purpose of my business is to know different people and make friends with them, so face-to-face communication is very important," Zhu said.
The store netted a profit of less than 20,000 yuan last year, but it's not Zhu's biggest concern. His main worry is sourcing books.
More and more people are aware of the importance of keeping good books, while the books they don't want to keep have low value and cannot be sold for much, Zhu said.
In 2013, Zhu was diagnosed with esophageal cancer, which has brought more difficulties to his business as well as his life.
"Zhu is so self-reliant that he refused to ask others for help until in early April when he asked me to introduce some customers to his shop," said Zhang, the journalist.
Zhang wrote an article and published it through the WeChat account of the Anhui Evening News.
The article was forwarded hundreds of thousands of times by readers, bringing more media attention to the shop, and more customers, too.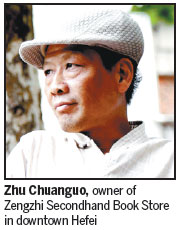 Many readers come to the store to donate books and magazines, but Zhu refuses most of their offers, since the store has always focused on literature, history and philosophy, "while many books they donated were of other types", he said.
"His being focused on these book types is kind of his own strength compared with other secondhand book stores," said Wang Xianyou, an expert on folklore who visits Zhu's store often.
Wang's latest visit to the shop was on July 3. When he arrived at the store around 1:30 pm, Zhu and his wife were still sitting at the sidewalk having their lunch.
Zhu is a huge fan of Deng Lijun, the late singer, who has been famous across the country since the 1980s. When he is in a good mood, customers are likely to hear him loudly singing Deng's songs.
Wang, who plans to contribute to the book on Zhu and his story, joked that it was a great pity that Zhu was a book seller instead of a professional singer.
The book will feature articles from about 20 cultural and literary celebrities from the city as well as many articles by Zhu himself, Wang said.
Contact the writers through zhulixin@chinadaily.com.cn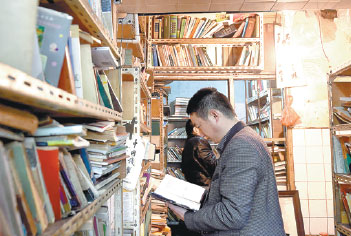 Two customers search for a good read at Zengzhi Secondhand Book Store in April. Liu Junxi / Xinhua