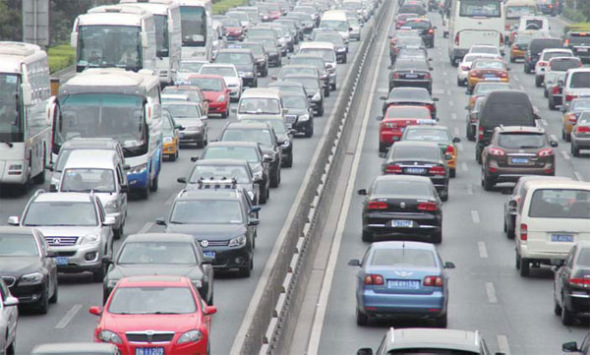 Cars crowd a highway in Beijing. Wu Changqing / For China Daily
BEIJING - Beijing on Saturday announced that it would speed up construction of a "subsidiary administrative center" while promising to limit its population to 23 million people.
The announcement was made as the city on Saturday concluded a plenary session of its party committee, during which a guideline was passed on promoting the integration of Beijing with its neighboring Hebei Province and Tianjin Municipality.
The city's "subsidiary administrative center" would be "focused" on Tongzhou, a suburban district to the southeast, and its construction must have "remarkable progress" by 2017, according to the guideline.
The guideline also said the city must stick to its population control target of 23 million people by 2020. The city's total population stood at 21.5 million in 2014, according to official data.
Beijing has banned hospitals in downtown Dongcheng and Xicheng districts from adding beds, state broadcaster CCTV reported Saturday. Beijing Tian Tan Hospital in the downtown Dongcheng District will be moved to the south ring road in Fengtai District.
The Chinese capital has sought to address its severe "urban diseases," such as traffic congestion and air pollution, by curbing its population growth and moving some facilities to nearby regions.
The announcement said moving out some of Beijing's non-capital functions would be a top priority in the strategy of integrating Beijing, Tianjin and Hebei that China has been promoting.
Over the past year, a number of wholesale markets in the city's central areas were shut down or relocated. The capital has also accelerated the pace of industrial restructuring and took a more stringent attitude to floating population registration.