Changes in the nation's student-loan program will help cash-strapped borrowers pay back their loans after graduation, the Ministry of Education announced on Friday.
The term of the national student loans will be extended to 20 years, and the time that students will have to pay the interest will be extended to three years, said Du Yubo, education vice-minister, at a news conference.
"Previously, the term for the loan was only 14 years, and students had to start repaying the capital two years after their graduation. This created a lot of financial pressure, especially for those who just graduated and started working and didn't earn much," Du said.
After the measures go into effect, the amount of money students have to repay each year will drop 30 to 40 percent, according to ministry calculations, he added.
The measures gained approval from the State Council, China's Cabinet, early this week and will be implemented under a joint effort of multiple departments, including the education and finance ministries, the China Banking Regulatory Commission and the People's Bank of China.
National student loans, which have the aim of helping students from impoverished families finish higher education, came into effect in 1999. To date, a total of 120 billion yuan ($19.3 billion) has been granted to more than 11 million students all over the country.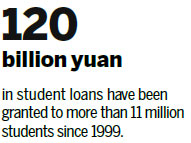 Last year, the upper limit of the loan was raised from 6,000 to 8,000 yuan annual limit for an undergraduate and 12,000 yuan for a postgraduate. Last year alone saw 16 billion yuan granted to 2.8 million students.
However, some repayment problems have surfaced.
"For example, some students are unable to repay their loans because of sickness or because they choose to pursue a further academic degree after graduation, and some complain that the term of the loans is too short and imposes too much economic pressure," Du said.
These are the reasons why changes in the program will be adopted, he added.
"Through these policies and measures, we hope to promote equality of education and ensure that students from impoverished families can also enjoy quality higher education," Du said.
Chu Zhaohui, a senior researcher from the National Institute of Education Sciences, said he approves of the changes.
"The measures are good news, particularly for students from rural areas," he said. "I believe more students will be able to afford a college education as the financial pressure imposed on them is reduced."
zhaoxinying@chinadaily.com.cn