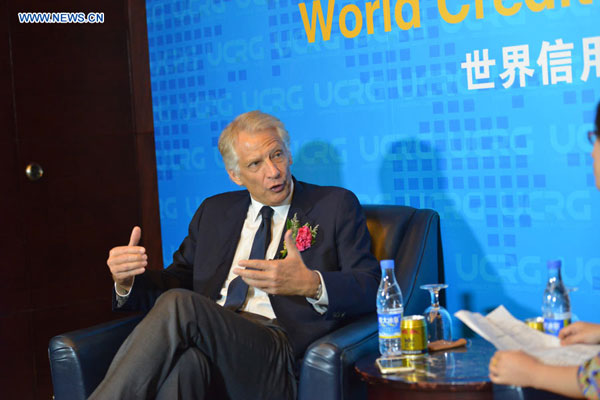 Former French Prime Minister Dominique de Villepin gives an exclusive interview to Xinhuanet in Beijing, June 29, 2015. [Photo/Xinhua]
BEIJING – Former foreign political leaders have spoken highly of Chinese President Xi Jinping's strategy and performance on governance.
They agree that under his leadership China will move forward faster in its socio-economic development.
Speaking to Xinhuanet on the sideline of the just-closed World Credit Rating Forum lately, Dominique de Villepin, former French Prime Minister, said that what impresses him most is the determinations of President Xi and the Chinese government.
He said in the present world, visions and determinations are vital in face of new dangers and challenges. What the western countries are in short of, is China's capacity to gather strength as well as determinations to strive in long run.
In Dominique de Villepin's mind, fighting against corruption, transforming the economic development pattern and enhancing measures on climate change as well as environment protection, are among the major spotlights in Xi's achievements.