Organization provides roadside assistance, teaches to 'drive like an English gentleman'
When Tian Pengfei ended his overseas student life and came back to Qingdao for good in 2009, he was concerned about what he saw on the roads - instances of road rage, drivers unable to change a tire.
After witnessing one road accident in which a vehicle caught fire and after performing a rescue in two separate car accidents, he quit his career as a reporter in May 2014 and started a volunteer organization called Qingdao Voluntary Road Rescue Team.
The organization has since completed 270 missions, including 190 vehicle rescues, 16 first aid assistances, and nine firefighting rescues.
"My former boss said my proposed project looked great but it would not make any profit. I had to do something. So one month later, I decided to build the organization on my own," Tian told China Daily.
Fortunately, his enthusiasm for the project won support from many others.
"I went to a local radio station to meet their traffic broadcaster. I knocked on the doors of the Traffic Police Department, China Red Cross Qingdao, as well as the city's Civilization Office. They all liked my plan and decided to back me," he said.
Divided into a road civility demonstration team and a rescue team, Tian's organization is dedicated to providing roadside services and assistance, and promoting civilized driving in the city.
Within a year, more than 450 drivers have signed up, and 150 of them have received training to become part of the organization's professional rescue team.
Tian said the road civility demonstration team is focusing on good driving and influencing others to drive in a civilized way.
"They should drive like an English gentleman and pay attention to details. For example, if you are a team member, you will never be allowed to park and block a fire exit."
The team has also shot a video about making way for an ambulance in a traffic jam. It also holds a number of courses on following traffic regulations and driving with appropriate courtesy.
Training is essential to the organization's development, Tian said.
"To be a member of the professional rescue team, first you have to follow the regulations of the civilized driving demonstration team and then pass a number of training programs, including Red Cross first aid training, fire extinguisher and emergency simulation training."
Each rescue team member's vehicle is equipped with a high-visibility vest, LED warning lights, emergency jump-start cable leads, a tow rope, fire extinguisher, and EMT equipment.
Last month, Wang Jianbin, a roadside rescue team member, saw an elderly woman fall over in a parking lot. Wang applied some first aid to stop her bleeding and helped the woman rest in an appropriate way until the ambulance arrived.
Gong Jing, the doctor who arrived at the scene, said the woman could have incurred more serious injuries if she had been moved or had been positioned in the wrong way before getting professional medical attention.
Chen Min, an official at China Red Cross Qingdao, has been coordinating with the team to provide first aid courses for their team members.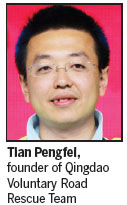 "Inappropriate assistance often does damage to patients," said Chen. "Through this training, Tian's team will really make a difference in saving lives and helping others."
Li Yong, a traffic police officer in Qingdao, said he sees the organization as a rising force in helping shape an organized transportation system.
"Although it only started a year ago, I believe its operation and promotion will help a growing number of people to learn how to drive appropriately and strictly follow traffic regulations. As a result, road safety, traffic flow and civility will all be enhanced."
Xu Jianmin, a division chief at the Qingdao Civilization Office, said Tian's idea about volunteerism is a new concept in terms of road civility in the city and will largely help build a civilized society.
"With the increasing number of private cars in Qingdao, we need an organization to help promote the civilized way of driving and teach people how to behave properly on the road, even save others in a professional way," Xu said.
Qingdao boasts 3,589 registered volunteer organizations with nearly 700,000 volunteers providing various services to the city and to those in need of help.
xiechuanjiao@chinadaily.com.cn
(China Daily 07/09/2015 page7)