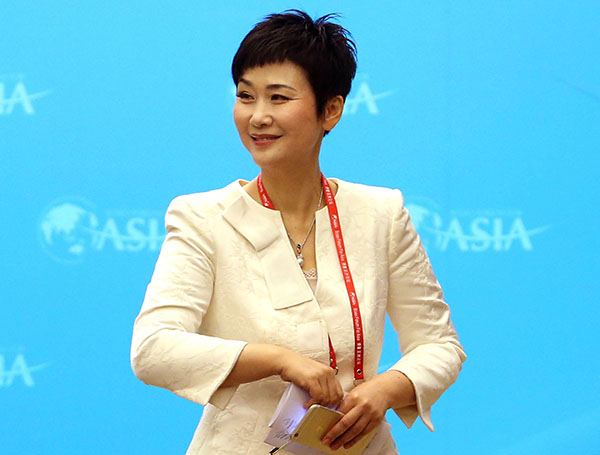 Li Xiaolin, newly-appointed vice-general manager of China Datang Corp, attends a seminar at the 2015 Bo'ao Forum for Asia in Hainan province in this March 29, 2015 file photo. [Photo by Wu Zhiyi/Asianewsphoto]
High-profile businesswoman Li Xiaolin has been appointed vice-general manager of China Datang Corp, one of the country's Big Five power companies.
Li, 54, was previously chairwoman and CEO of China Power International Development. She was regarded as the most powerful woman in the industry as the only female CEO of a company listed on the Hong Kong Stock Exchange.
The appointment was announced on Tuesday by Liu Qiang, vice-chairman of the State-owned Assets Supervision and Administration Commission of the State Council, the regulator of more than 100 non-financial State-run companies.
"Li is familiar with the power industry and has rich management experience with listed companies and showed strong leadership when working for the State Power Investment Corp and its subsidiary China Power International Development," Liu said.
Li is the only daughter of Li Peng, who worked for almost 40 years in the electricity generation sector before becoming premier in 1988.
Her dress style has attracted attention in the past few years. She was photographed wearing a $1,860 pantsuit by Emilio Pucci while attending the top political advisory body's annual session in 2012.
The media noted that she swapped her luxury purses for an environmentally friendly cloth bag at last year's two sessions.
In 2013, The Daily Telegraph in the UK published a story saying the businesswoman played a leading role in a deal in which Zurich Insurance, one of the world's largest insurance companies, purchased nearly a quarter of the shares of the New China Life insurance company.
China Power International Development denied the report, saying that Li had no personal contact with any insurance company and that she reserved the right to take legal action against anyone who transmitted the "rumors".