Hong Kong saw a further reduction in tourists last month in a worrying trend experts credited to more travel choices for mainland Chinese tourists, easing visa regulations and soft currencies in neighboring countries.
Experts and industry leaders also warned that the city is in an unfavorable position when competing with other regional tourist destinations and that its reputation has suffered from the ongoing protests.
Overall visitor arrivals fell by 1.9 percent year-on-year for the first four weeks of June. The monthly drop was the second year-on-year monthly fall this year. In March, visitor arrivals slid 8.7 percent. Leading the decline was a 10 percent drop in independent mainland visitors, following a 5 percent fall in May.
Secretary for Commerce and Economic Development Gregory So Kam-leung warned of an "accelerating decrease" that deserved urgent attention. He pledged to organize more festive events to help Hong Kong remain attractive to travelers.
Mainland tourists are Hong Kong's primary source of visitors, with 47.2 million arrivals last year. They accounted for nearly 78 percent of all arrivals, according to the Hong Kong Tourism Commission.
Industry experts cited competition as a key reason for the decrease. Many countries have loosened their visa policies for Chinese nationals, which attracted significant numbers of mainland tourists, said Song Haiyan, a professor and associate dean at Hong Kong Polytechnic University's School of Hotel and Tourism Management.
Currency fluctuations are also a vital factor, Song said. The euro, Japanese yen and South Korean won have dropped, undermining Hong Kong's competitiveness as a shopping destination.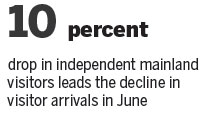 Fiercer competition in the regional tourism market also is ongoing. Japan and Thailand both recorded an increase of more than 90 percent in mainland visitor arrivals in the first quarter of the year. Vietnam saw an increase of 60 percent, while South Korea recorded a 36 percent rise, according to the tourism commission.
Meanwhile, the 2014 PolyU Tourist Satisfaction Index released by the School of Hotel and Tourism Management saw a drop of 1.46 points for Hong Kong, representing the largest decline in the six years since the index was launched.
This reflected political squabbles, such as last year's Occupy Central movement, that made mainland tourists and travelers from other countries feel unwelcome and reluctant to choose Hong Kong over other destinations, Song said.
In the long run, the slowing trend will affect other industries, which could have a negative effect on the city's economy as a whole, the professor said.
Industry players are already reacting to the dip. In the past six months, a number of local small retailers have closed their stores due to tourist losses, said Caroline Mak Sui King, chairwoman of the Hong Kong Retail Management Association.
She said she feared a wave of business closings in the coming months and hoped the protesters would stop the demonstrations.
luisliu@chinadailyhk.com
(China Daily 07/07/2015 page4)