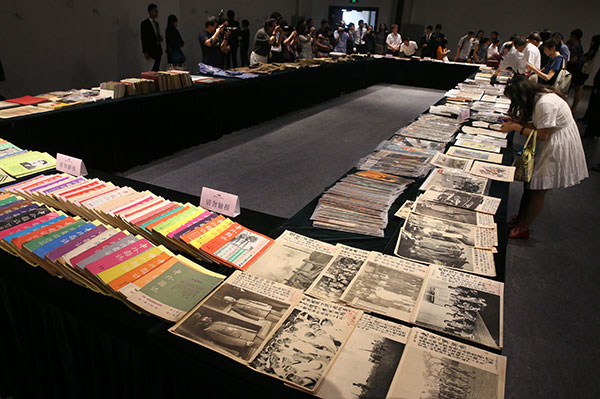 Historical documents about Japanese aggression during World War II go on display at an exhibition at the Overseas Chinese History Museum in Beijing on Saturday. Yin Yafei / for China Daily
More than 1,000 privately owned historical documents that record Japanese militarists' crimes during World War II have been donated to the Museum of Overseas Chinese History in Beijing.
To reach the widest possible audience, the documents will be initially displayed at the Chinese People's Anti-Japanese Aggression War Memorial Hall beginning Tuesday, said Qiao Wei, spokesman for the All-China Federation of Returned Overseas Chinese.
The documents, held for years by Hsu Po Yih, a Taiwan artist and philanthropist, cover 1894 to 1936 and include internally distributed documents of Japanese troops as well as Asahi Shimbun newspapers during the war.
"These materials have great value for studying the history of the war, launched by Japanese militarists more than half a century ago," said Ruan Jianxin, former curator of the Military Museum of the Chinese People's Revolution, during the donation ceremony on Saturday.
The documents were part of Hsu's personal collections.
Qiao said that Hsu had collected the items randomly at first, but later felt it was important to preserve them.
"Even though history might be distorted, relics speak up themselves," Qiao quoted Hsu as saying.
When Hsu learned from his friend Li Zhe, vice-chairman of the Beijing Overseas Chinese Federation, that the All-China Federation of Returned Overseas Chinese was soliciting evidence from around the world for an exhibition on World War II, he decided to donate his collection.
He spent nearly a year sorting the material, stored in eight warehouses in Taiwan.
It was packed into heavy boxes for the journey to Beijing in May.
When Hsu was on a world art exhibition tour last year, he declined invitations from Japanese entrepreneurs who had pledged to hold big exhibitions for free. Hsu also turned down requests from envoys of Japanese Prime Minister Shinzo Abe, who offered large sums of money for the documents.
Wang Yanfei contributed to this story.