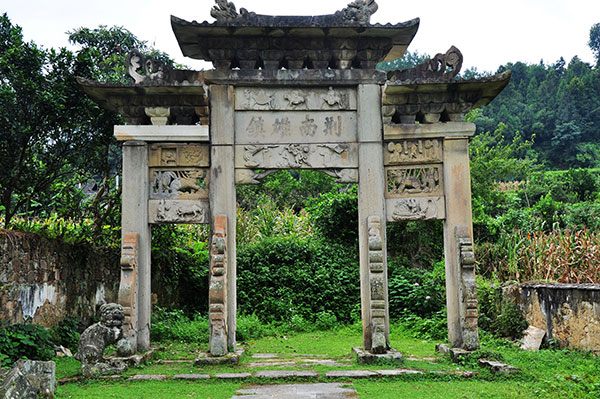 A memorial archway in Tangyacheng Site, Xianfeng county, Hubei province [Provided to China Daily]
Historical structures from the ethnically diverse Tusi Sites in southwest China are stepping into the pantheon of world cultural treasures.
China gained its 48th World Heritage Site on Saturday when the 39th session of the UNESCO World Heritage Committee, meeting in Bonn, Germany, added the Tusi relics to the coveted list.
China now has the world's second most UNESCO World Heritage sites, trailing only Italy.
Tusi refers to tribal chieftains governing non-Han ethnic groups in southwest China who were appointed by the central government from the 13th century to the mid-20th century.
Most of the listed Tusi structures were built during the Ming Dynasty (1368-1644) in three locations: the Laosicheng Site in Youngshun county, Hunan province; the Hailongtun Site in Zunyi, Guizhou province; and the Tangyacheng Site in Hubei province's Xianfeng county.
"The three are most representative among more than 100 Tusi relics in China," said Tong Mingkang, deputy director of the State Administration of Cultural Heritage.
"They are relevantly less intervened by modern lifestyle, and stand out after a longtime evaluation and analysis by various fields," Tong said.