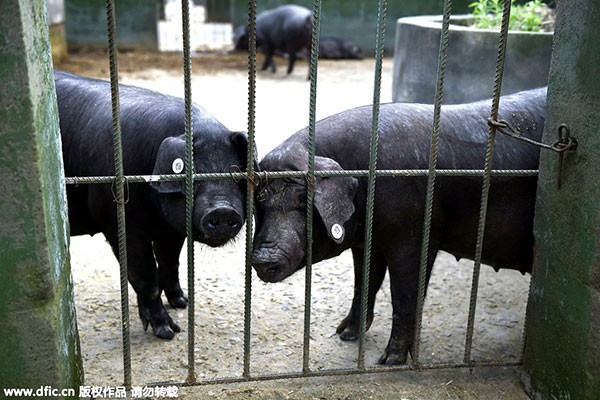 Domesticated black boars in a pigsty. Any abnormal behavior will be reported to the seismological bureau. [Photo/IC]
The seismological bureau in Nanjing has transformed seven animal farms into seismic stations, believing that closely monitoring the behavior of certain creatures can help forecast earthquakes, Modern Express reported.
Breeders have to brief the bureau in the eastern city about the behavior of the animals twice a day, or abnormal behavior as soon as possible, through QQ, Chinese instant messaging software.
Special training at the bureau lists possible abnormal behavior as chickens flying atop trees instead of eating, a large number of fish leaping out of water or many toads moving home, said Zhou Hongbing, a breeder turned earthquake observer at Banqiao Ecological Park, one of the refurbished animal farms.
To make sure the behavior of animals is closely tracked, cameras are set up across the park which is home to 200 black boars, 2,000 chickens, and a fish pond of 14.6 hectares.
"Seismological experts will analyze reported abnormalities to decide whether or not a possible earthquake is imminent," said Zhou, "When it's too hot, chickens may also fly atop trees to seek cool shelter."
While Nanjing plans to transform seven more farms this year, using animals to forecast earthquakes is not something new in China because as early as 2010 feeders in zoos in the southern cities of Guangzhou and Shenzhen were tracking and reporting abnormal behavior.
Animals used to forecast earthquakes must be highly sensitive to infrasound but not to other changes in environment or weather, so most are birds, according to Shen Zhijun, keeper at Hongshan Forest Zoo in Nanjing.
"Our zoo is not transformed into a monitor station because the animals will display abnormal behavior when they are teased by visitors," said Shen.
Possible animal farms need to house more than three species and a pond, if there is one, needs to cover dozens of hectares, so that we have enough samples to do cross checks, said Zhao Bing, division chief with Nanjing seismological bureau.
Preferred farms should be in relatively quiet neighborhoods away from factories or mines.
As early as the 1970s, 58 kinds of animals are found to display abnormal behavior before earthquakes. They included wild and domesticated animals such as cats, dogs, pandas, fish, snakes, rats, ants and bees, according to a survey by the Institute of Zoology, Chinese Academy of Sciences.
Cave animals, such as rats and snakes, are found to be more sensitive than those living above the ground, and smaller ones more sensitive than bigger ones.
Records of quakes show that animals displayed abnormal behavior before they occured. For example, six weeks before the devastating earthquake in Yingkou, Northeast China's Liaoning province, in 1975, snakes in hibernation left their caves and geese kept honking and refusing to enter their nests. Also before the deadly earthquake striking Tangshan, North China's Hebei province, hordes of rats were seen fleeing nests and more than 100 skunks migrating.