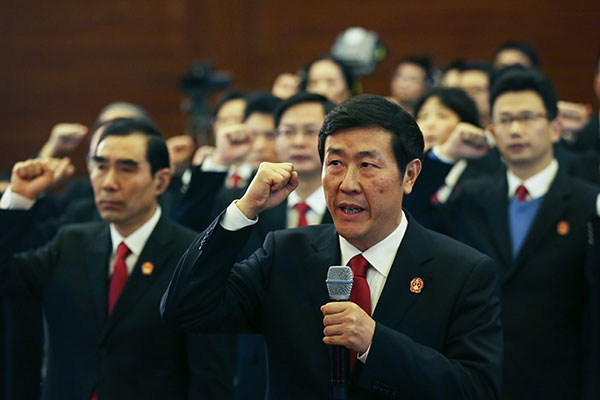 Shen Deyong, executive vice-president of the Supreme People's Court, takes the lead in making an oath to the Constitution in Beijing in December. Wang Jing / China Daily
Government officials, including the president and the premier, are now required to take an oath to uphold the Constitution when they assume office, a symbolic move in the country's advocacy of the rule of law.
The National People's Congress, the country's top legislature, adopted the measure on Wednesday, and it will take effect on Jan 1.
The oath's 70 Chinese characters are translated as, "I pledge to be faithful to the Constitution of the People's Republic of China, safeguard the Constitution's authority, perform obligations as required by law, be loyal to the country and people, be committed and honest when performing duties, accept people's supervision, and work hard to build a socialist country that is prosperous, strong, democratic, culturally advanced, and harmonious."
The measure is intended to improve all functionaries' awareness of observing the Constitution and urges them to fulfill their obligations under it.
The law requires all officials elected or appointed by people's congresses at all levels and their standing committees above the county level, as well as those appointed by people's governments, courts and procuratorates at all levels, to take a public oath of allegiance to the Constitution when assuming office.
At a public swearing-in ceremonies, single officials will raise their right hand formed into a fist and place their left hand on the Constitution.
When multiple participants are involved in the oath-taking, an assigned representative will be required to put his or her left hand on the Constitution and the right hand raised into a fist, while the rest will raise their right hands in fists and not need to put their left hands on the Constitution.
The national flag or emblem must hang in the hall where the ceremony takes place.
Functionaries at the State level must take the oath after being elected or appointed. They include the president and vice-president; the NPC Standing Committee chairman, vice-chairpersons, secretary-general and all members; the premier, vice-premiers, State councilors, ministers, the governor of the People's Bank of China, and the auditor general of the National Audit Office; the chairman, vice-chairpersons and members of the Central Military Commission of the People's Republic of China; and heads of the Supreme People's Court and the Supreme People's Procuratorate.
Also required to take the oath are the deputy secretary-general of the NPC Standing Committee, members of various committees under the NPC Standing Committee, the vice-president and other officials of the SPC and SPP, officials appointed by the State Council and its ministries, as well as ambassadors to other countries.
The current Constitution was adopted on Dec 4, 1982. Dec 4 is China's Constitution Day.
zhang_yi@chinadaily.com.cn