More than 70 scions of wealthy entrepreneurs in Fujian province are being educated at a training course featuring tough, no-nonsense discipline.
The rich kids - with an average age of 27 - will be warned for missing two classes. And students who skip four will be expelled.
The students, most of whom have been working for family businesses and have an average age of 27, are taking courses in traditional Chinese culture - Confucianism, Taoism, social responsibility and business management.
Organized by the Siming district government in Xiamen, Fujian province, the training course, now in its third year, aims to teach the students - dubbed second-generation rich - discipline and responsibility, according to You Xiaobo, the class supervisor and office director of the district government.
As Siming district is home to a legion of private enterprises in the province, the authorities have often held talks with entrepreneurs, You said. Some bosses were concerned about their offspring being able to run the family business well.
"The training program was launched to build an excellent team, a younger generation of entrepreneurs," said Huang Qiaosheng, head of Siming district.
The training takes place monthly, with free courses taught by university professors and business tycoons that usually last two or three days. Students attend the class in Beijing or Xiamen.
Xu Jiajun, a students who works in Shanghai for his family's real estate business, said the strict discipline is helpful for his personal growth.
"I received a better education than my father, and I don't have to worry about capital. What I lack is self-discipline, and the class regulation is a good reminder."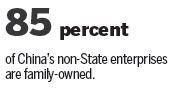 Hou Xiurong, who works for her family's hotel business in Xiamen, said the training is different from other programs she took part in before.
"The courses are not all about markets, management and how to create wealth; they also include traditional Chinese classics that inspired us to be refined, civilized and peaceful," Hou said.
At a work conference of the United Front Work Department last month, President Xi Jinping called for more efforts to "guide the younger generation of private enterprise owners to think where their money comes from and live a positive life".
The offspring of parents who have acquired wealth in recent years are often labeled spoiled and self-willed, with many of them knowing how to show off their money but no idea about how to generate it, according to an article published by the UFWD, which manages relations between the Communist Party of China and non-Party elites.
The article said that more than 85 percent of China's non-State enterprises are family-owned. In the next five to 10 years, 75 percent of the family-owned enterprises will face issues of ownership succession. Problems with rich youth could dampen public confidence in the private economy, the article said.
Contact the writer at sunli@chinadaily.com.cn