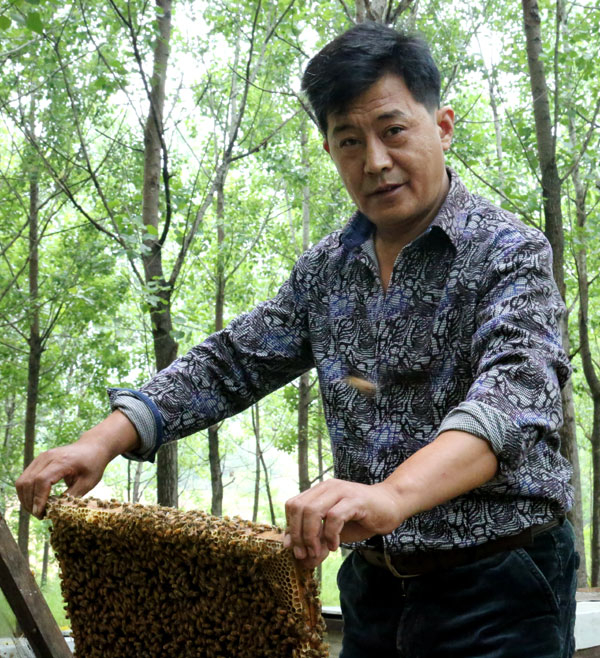 Ma Chao reveals a cluster of bees in a beehive to showcase his pride in working as a beekeeper for 35 years. QIN DACHUN/CHINA DAILY
Income from tending 170 hives, 3 million bees helped Anhui man buy a home and raise a family
For 53-year-old Ma Chao, beekeeping has been a way of life for 35 years. His 170 beehives house more than 3 million bees and are an everlasting family treasure.
The honey produced by the bees has provided Ma and his wife, Fu Xiuling, 46, with an income that enabled them to buy an apartment in Huaibei, Anhui province, where they conduct their business, and bring up two daughters who have attended top universities.
The beehives are located in cool, airy places near a highway in Lieshan district, and the honey collected provides an annual income of at least 100,000 yuan ($16,100). Fu travels citywide to deliver the honey to customers. In a good year, such as 2013, the couple earns 400,000 yuan.
"As a beekeeper, I have to follow the flowers. In spring, I travel to places in southern China and move to northern areas in the summer," Ma said.
Since his daughters have grown up, the elder one "persuaded us to stay in our hometown, travel less and take good care of ourselves", Ma said.
"In the past 35 years, I've experienced various types of hardship," he said. "I am not rich, but I've helped people in an important way - their health."
Growing up in Hancun township in Huaibei's Suixi county, Ma began his beekeeping business at 18 after graduating from high school.
"I bought 20 beehives and followed my uncle to learn the business. I stayed in Sichuan province for more than 10 years, and traveled to the provinces of Jiangxi, Guangdong, Hubei and Anhui. I also toured Chongqing municipality and the Inner Mongolia autonomous region," he said.
"I had to endure stings and heat, and at busy times, it was like a war - too busy," he said.
When he started out, a beehive was worth between 100 and 200 yuan, but now they cost between 700 and 800 yuan. Sometimes his beehives are stolen.
"In 1990, we were passing Lingshou county in western Hebei when we were beaten and robbed by a gang," he said.
As a family man, Ma is proud of his two daughters. "They are quite successful," he said.
His elder daughter, 27-year-old Lina, attended Anhui University as an English major and later attended Shanghai International Studies University as a postgraduate. She now works in Hebei as an interpreter for the president of Great Wall Motor Co - China's largest manufacturer of SUVs and pickup trucks.
His other daughter, Yalan, 25, attended Wuhan University as an undergraduate and postgraduate. She will complete her studies in land resource management this summer.
"People really envy us for raising two successful daughters," Ma said.
He added that he feels quite happy living in Huaibei but does have some concerns.
"I have my worries," he said. "My young brother, like me, works as a beekeeper. When we grow older, will people be willing to follow us in this painstaking industry?"
Zheng Li contributed to the story.
Contact the writer at machenguang@chinadaily.com.cn