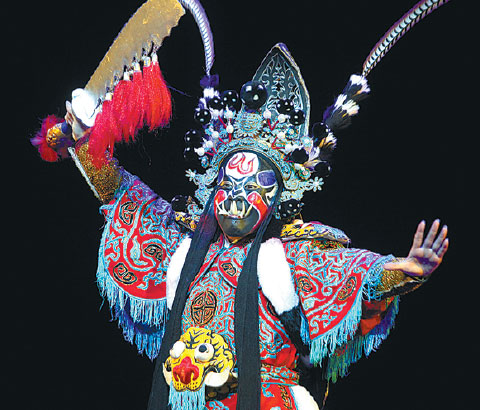 Xue Qiaoping plays a fanciful bandit with buckteeth in Jinlian Zhanlong, a traditional Chinese opera performed in Ningbo, Zhejiang province, in 2014. Zhang Yongtao / for China Daily
Woman's appearance on television helps to revive interest in endangered traditional performance
Xue Qiaoping is single-handedly trying to preserve the Chinese dramatic art of shuaya, or teeth playing.
She performs the traditional Chinese opera Ninghai Flat Tone created by Zhejiang artists a century ago.
Teeth playing requires performers to use the canine teeth of male pigs, usually 5 to 6 centimeters long, in their mouths.
Xue often performs with 12 canine teeth at once. She uses her tongue and mouth to move the ends of the teeth swiftly in and out. Different movements of the teeth express different moods for the characters, who are usually villains or ghosts.
The art of shuaya had been gradually disappearing until Xue caught the public's attention on the TV show China's Got Talent in 2011.
Xue performed with a dozen teeth and was hailed by the audience as she spoke, sang and did acrobatic fighting at the same time.
Since the TV appearance, Xue has been performing constantly, and a lot more people know about shuaya.
"I do about 300 performances a year," she said. "It's great that people like shuaya and my performance, but we need more people to participate in this art, or it is in danger of disappearing."
Xue's career began at 16 when she was enrolled in the Shaoxing Opera Troupe of Ninghai county, Zhejiang province. Three years later, when the local cultural authority wanted to protect its ancient heritage, she was transferred to the Flat Tone troupe with seven others.
Teeth playing isn't easy and can be painful at times. The hardship of learning the traditional performances soon scared away other prospective performers. Only Xue carried on.
"I wanted to make a living," she said. "At that time, my family lost its only income after my fisherman father got injured in an accident and had to give up working."
A month after she started to practice shuaya, her mouth was cut by the sharp ends of the teeth. Xue lost 6 kilograms in weight because she could hardly eat or drink and had to be fed intravenously.
"I was under a lot of pressure to get on the stage as soon as possible," she said. "I practiced at least nine hours a day."
Xue said she thought about giving up and making a living as a tailor or cosmetologist, a common choice for young women from poor families.
"But I like performing," she said. "And I take it as my responsibility to sustain the heritage."
Xue said her former boyfriend once asked her to choose between him and her career. He found teeth playing spooky, and it took up too much of her time. Xue chose her career.
"People keep telling me that I am the only inheritor of the art, and if I were to give up the art would disappear," she said.
But now as mother of a 2-year-old daughter, Xue said she hopes more people will participate, "so I won't need to sacrifice so much for my family".
Xue said every time she gets home, her daughter asks when she is leaving again. "She asks me, Do you leave tonight? Tomorrow? The day after tomorrow? Wake me up if you leave at night," Xue said. "Every time she says that tome, my eyes fill with tears."
Her performance on the talent show did spark people's interest and several came to her opera troupe to learn shuaya. Six teenagers, four boys and two girls, are training to become shuaya artists, although it will take a few years before they can perform independently.
Part of the reason for Xue's punishing performance schedule across China is to attract more people take up the art.
"The TV show and news coverage have given me a halo of fame. I can tell that students have come to me because they want the same thing," said Xue. "I always tell them it is not easy to be a shuaya artist and make them fully realize the difficulties it involves."
In 2006, Ninghai Flat Tone was listed as a national cultural heritage. Xue has since performed in Europe, including France, Germany and Belgium.
"I am glad to see that shuaya has been accepted by more people," she said. "I hope my students do not have to sacrifice as much as I did."
Contact the writers through pengyining@chinadaily.com.cn