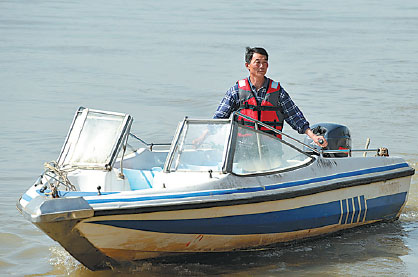 Wang Xiguang drives his motorboat along the Yellow River in April. He has saved 31 people from drowning in the river over the past 32 years and is called a "rescue specialist". Zhou Yong / for China Daily
Saving people who are in danger is worth more than anything, says store owner
As the weather becomes warmer, Wang Xiguang, 50, a store owner from Xingyang in Henan province, becomes more watchful as he walks along a bank of the Yellow River in front of his grocery business.
Frolicking along the river is dangerous but it happens all the time, resulting in drownings. Summer is the peak season and schoolchildren are the major victims.
"For me, rescuing people who are in danger is worth more than anything," said Wang, who has earned himself the nickname "rescue specialist" for saving 31 people from drowning in the river over the past 32 years.
Growing up along the Yellow River, Wang said he almost drowned in it when he was 12, but a villager rescued him. Soon afterward, he started learning how to swim.
He said he has come to know the river well over the years and that it can become even more dangerous in summer.
"It will somehow change its regular course and the currents become more unpredictable," said Wang, who has helped to set up warning signs along some dangerous sections of the waterway.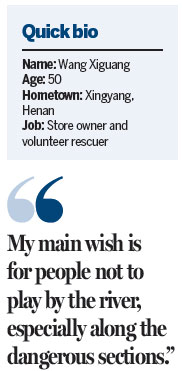 Children saved
"My main wish is for people not to play by the river, especially along the dangerous sections," he said.
In 2011, two pupils fell into the river during the summer while trying to catch their balloons. Hearing their cries for help, Wang rushed from his shop and jumped into the water.
After rescuing one child, Wang found the other was drifting away in the fast-flowing water. But he managed to save both pupils even though the water was becoming much deeper and rougher.
With the children in their arms, their parents thanked Wang continuously. He said modestly, "It was just something I could do."
To prepare for possible rescues, Wang keeps four safety vests in his shop, which turns into a rescue center where people rush in for help if someone is drowning.
Wang, who was named as a "national moral model" in March, said he plans to set up a rescue team.
His wife, Wei Jianxia, said all the family members feel nervous knowing that he jumps into the river to rescue others, but she knows that this is his choice and she supports him.
Wang said: "I have a responsibility for my family. I tell myself to calm down and make accurate judgments quickly when rescuing others."
qixin@chinadaily.com.cn