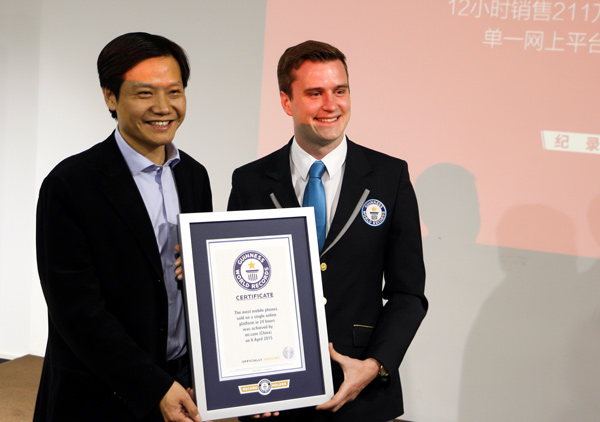 Lei Jun, CEO of Xiaomi, receives a certificate rewarded by Guinness World Records on April 9, 2015. [Photo provided to chinadaily.com.cn]
"Are you ok" has undoubtedly become a hallmark of Lei's poor English.
The video of the event, which swiftly swept China's social media, has been viewed more than half a million times on China's leading video streaming site Youku.
On the back of the original video that amused China's Mi fans, who prefer to be called "diaosi" for self-mocking a non-elite group with mediocre appearance and income, a new remixed rap song "are you ok" has captured the Internet.
The song has been viewed more than 700,000 times since April 30 on bilibili.com, a Chinese video streaming site that allows users to take part in videos by sending text messages that are displayed on screens.
More than 12,000 comments have been projected to the screen, with most poking fun of the tech startup's chief.
One of the comments reads, "It is too late to realize that my English proficiency can reach level 10 (as compared to Lei's)." In China, the commonly acknowledged level is 8, which is usually achieved by English majors.
To show how poor Lei's English was, social media users spared no efforts to put together the English speeches addressed by China's IT tech moguls including Jack Ma, founder of e-commerce giant Alibaba, Robin Li, founder and chief executive of China's dominant search engine Baidu, and Richard Liu, founder and chief executive of China's biggest online retailer JD.com.
It is said that both Jack Ma and Robin Li are ranked as highest-level English orator, with Richard liu in the middle and Lei Jun at the bottom.
It is not known if Lei has attempted such an effect to amuse his potential consumers on purpose.
The proven fact is that he posted a promise on his Weibo account, "Now that there are more and more Xiaomi fans overseas, I really should improve my English so that I won't disappoint everyone!"
Xiaomi is famed for marketing its sales online. Earlier last month, during a single 12-hour period in April, the smart mobile company sold 2.1 million phones online. The Guinness World Records announced that it created a new world record - "the largest sales of mobile phones on a single online platform within 24 hours".