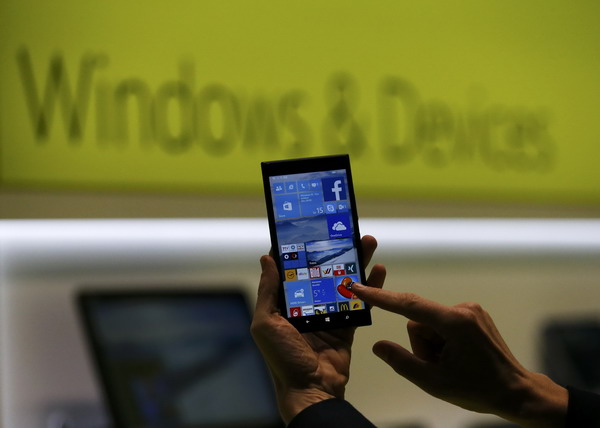 A Microsoft representative shows a smartphone with Windows 10 operating system at the CeBIT trade fair in Hanover March 15, 2015. [Photo / Agencies]
Microsoft Corp made a major breakthrough in its long-awaited Windows 10 operating system in China by adding Xiaomi Corp to its list of partners.
The Redmond-based company will partner with the Beijing-based smartphone maker by offering its Windows 10 operating system to Xiaomi's flagship mi4 devices, said Terry Myerson, executive vice-president of operating systems group at Microsoft.
Through the partnership with Xiaomi, a select group of Xiaomi Mi 4 power users will be invited to help test Windows 10 and contribute to its future release later this year.
These power users will have the opportunity to download the Windows 10 Technical Preview - installing it and providing their feedback to Microsoft said in a statement.
"Xiaomi gives us the opportunity to access the company's users," said Myerson. "We will work with Xioami to see their customer responses before launching Win10 on other Xiaomi devices."
There are no announcements from Xiaomi's side.
Microsoft also announced partnerships with Chinese technology firms Tencent, Qihoo and Lenovo to beef up its offerings in China.