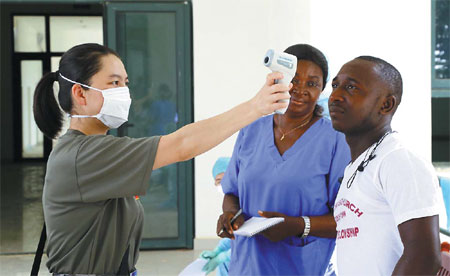 A Chinese medical worker demonstrates equipment to test body temperature at the China-Sierra Leone Friendship Hospital in Freetown. Huang Xianbin / Xinhua
BEIJING - China on Wednesday unveiled the details of its 4th batch of aid worth some $82 million to help African countries' fight against the ebola virus.
According to Sun Jiwen, spokesman of the Ministry of Commerce, the latest aid package includes sending health experts to Liberia, Sierra Leone and Guinea -- the three hardest-hit countries in the Ebola crisis -- to help contain the epidemic and sending public health staff to train local doctors and nurses, as well as medical equipments and materials.
China will build a 100-bed treatment center in Liberia where the epidemic is most serious and send doctors and nurses there for its operation.
Moreover, China has pledged to donate $6 million to the UN Ebola Response Multi-Partner Trust Fund and launch a program for China-Africa public health cooperation to hold 12 training sessions on public health and epidemic prevention and control for the three epidemic-stricken countries, the African Union and the Economic Community of West African States in 2015.
In Sierra Leone, Chinese medical team have tested about 1,000 blood samples and about half of them have been proved positive.
The Chinese medical team there is divided into two units, a holding center and a mobile laboratory. The lab receives the blood samples for testing whilst the holding center admits the suspected cases. Those that are proved positive are referred to a treatment center whilst the ones proved negative are referred to a hospital.
With the advent of the Chinese laboratory, testing time has been reduced and it has helped immensely in getting the positive cases to the treatment center, the Deputy Director of the China's Center for Disease Control and Prevention Gao Fu said.
In Liberia, the Chinese contingent of the UN Mission will help build an Ebola Quarantine and Control Center in the capital city of Monrovia.
Since the outbreak of the deadly disease, the Chinese government has offered three batches of emergency humanitarian relief worth 250 million yuan ($41 million) to help West Africa fight Ebola.
On the international arena, countries such as the United States, Algeria and the Democratic People's Republic of Korea (DPRK) have actively taken various measures to contain the disease.
US Defense Secretary Chuck Hagel on Wednesday approved a measure to place under a 21-day supervised isolation regimen all military service members returning from Ebola response efforts in West Africa.
According to a Pentagon statement, the order will apply to all military services that are contributing personnel to the fight against Ebola at its source.
Eleven American soldiers in northern Italy have been put under Ebola quarantine after returning to a US military installation there, from West Africa.
On Wednesday, a US government health official attended an Ebola meeting in Havana, Cuba, signalling the two nations' desire to cooperate in a fight against the deadly epidemic.
At the meeting on the region's response, Nelson Arboleda, director of the U.S. Centers for Disease Control and Prevention (CDC) for Central America, underscored the importance of regional cooperation.
Algeria on Wednesday decided to freeze business dealings with African countries hit by deadly Ebola virus, as a preventive step against the spread of the disease.
The World Health Organization warned recently that Algeria is among the North African nations that are threatened by the spread of Ebola, following some cases recorded in neighboring Mali and Mauritania.
European Commission's Humanitarian Aid and Civil Protection Department (ECHO) has said it will continue working with its partners to support Mali's efforts to fight against Ebola outbreak following last week's confirmation of the first case.
The Democratic People's Republic of Korea said it will take emergency measures against Ebola spread and all foreigners who enter the country will be subjected to a 21-day quarantine at designated places and medical observation by health workers.
Timeline of China's assistance
August 11, 2014
Medical supplies
Chinese plane carrying emergency humanitarian supplies for Sierra Leone arrives in the country's capital Freetown in the afternoon of August 11, as part of efforts to help the country contain the spread of Ebola.
August 27, 2014
Suspected case cleared
Chinese returnee from Nigeria who was hospitalized for "observation" in the southern city of Shenzhen is cleared after medical checkup, said the local health authorities.
September 5, 2014
New research lab
Chinese Center for Disease Control and Prevention confirms that it is working to establish a special laboratory by next year to conduct research on finding a potential cure for the virus.
September 10, 2014
Premier promises help
During the meeting with President of Mali Ibrahim Boubacar Keita at Tianjin Summer Davos, Chinese Premier Li Keqiang said that China is prepared to "fight side by side" with West African countries to combat the epidemic.
September 16, 2014
Team leaves for Sierra Leone
A 59-member Chinese laboratory team, with 30 doctors and 29 technicians, leaves Beijing. It will work at the Sierra Leone-China Friendship Hospital to help Sierra Leone improve lab testing, said Hong Lei, spokesman of Foreign Ministry.
September 19, 2014
Portable testing kits
China has produced portable kits to help with testing, said Li Dexin, a research fellow of the National Institute for Viral Disease Control and Prevention under the Chinese Center for Disease Control and Prevention.
September 25, 2014
Successful test
Chinese experts successfully test the Ebola RNA samples for the first time at Sierra Leone-China Friendship Hospital, some 30 kilometers from the capital Freetown.
September 26, 2014
Tackling root cause
In addition to assistance in tackling the unprecedented crisis, China wants to help boost crisis-hit countries' ability to address the root cause, said China's Special Representative for African Affairs.
September 29, 2014
Aid to Ghana
China provides Ghana with 5 million yuan ($833,000) worth of equipment and medical supplies to help the country battle the outbreak.
October 1, 2014
Mobile lab treats first patients
Ambulance takes the first five patients under Ebola observation to China's mobile lab testing team at the China-Sierra Leone Friendship Hospital at 2:15pm, Oct 1, 2014.
October 15, 2014
Drug firm eyes quick approval
Sihuan Pharmaceutical Holdings Group Ltd signs an agreement with Chinese research Academy of Military Medical Sciences to help push the drug called JK-05 through the approval process in China and bring it to market. The medicine, developed by the academy, is currently approved for emergency military use only.
October 17, 2014
Book on prevention
Prevention and Treatment of Common Diseases in Africa, a book on preventing and treating common diseases in Africa, highlighting the Ebola virus that is raging through the west of the continent, is co-published by Zhejiang Science and Technology Press and Gabon's NTSAME publishing house, under the instruction of China's State Council Information Office.
October 19, 2014
China, France to join hands
China and France agree to join hands to combat the "unprecedented" spread of Ebola in western part of Africa.
October 24, 2014
China pledges 500m yuan Ebola aid to Africa
President Xi Jinping announced a 500 million yuan ($81.7 million) assistance package to fight Ebola as China continues its commitment to preventing the spread of the deadly virus in West Africa.