Sitting exams becomes pet subject for students
Zhao, 17, is among a large number of Chinese students who are aiming to study overseas. Passing the SAT is the first step.
The exam, held six times a year outside the US — in January, May, June, October, November and December — is not offered on the mainland and students often travel to Hong Kong or Singapore to take it.
Most of the top US universities require a candidate's SAT score, but there is no limit on the number of times the exam can be taken.
Educators and analysts say the enthusiasm to take the SAT stems mainly from increasing competition among Chinese applicants in recent years, but they fear such students will develop a lack of creativity.
Related: More Chinese opt to study at overseas universities
Education commission denies Shanghai picked as SAT site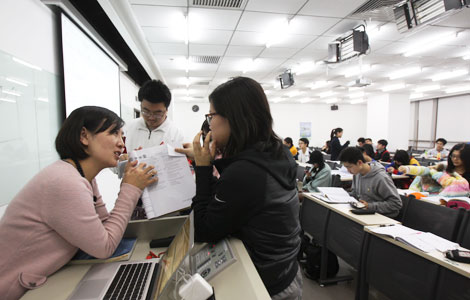 A teacher answers questions from students preparing to take the SAT, the US college entrance exam, in Hong Kong.[Pu Feng / for China Daily]