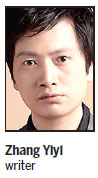 By filing a lawsuit against the Hunan provincial education and examination board, Zhang Yiyi, a controversial writer who is notorious for promoting himself, has successfully pushed himself into the limelight again.
In his legal appeal, Zhang asked for the disclosure of the design procedure, the list of exam markers, the grading procedure and the basis of the test paper of the national college entrance exam in Hunan province.
On Oct 8, the court dismissed the lawsuit, saying that except for the grading procedure, the other information demanded by Zhang is classified.