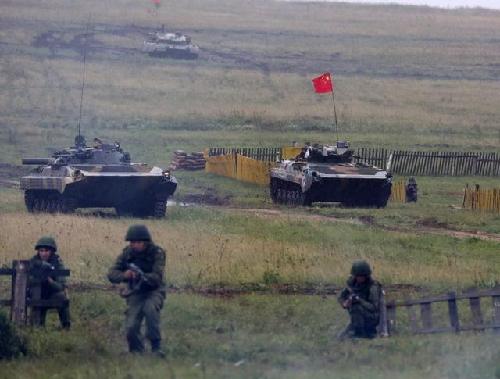 This file photo shows soldiers in Peace Mission-2013. [Photo/Xinhua]
BEIJING - Kazakh, Kyrgyz and Tajik troops set for a joint anti-terror drill have entered China and are heading for the drill site in the country's north, a statement from military sources said Wednesday.
Shanghai Cooperation Organization (SCO) members will participate in "Peace Mission-2014" which will take place from Aug 24-29 in China's Inner Mongolia Autonomous Region.
Reaching Xinjiang on Monday morning, 480-plus soldiers and officers from Kyrgyzstan were the first to arrive, followed by Tajikistan and Kazakhstan.
As of Tuesday, more than 1,000 foreign soldiers and officers are heading toward their destination in Inner Mongolia via road, rail and air.
The drill, which is expected to involve over 7,000 Chinese, Russian, Kazakh, Kyrgyz and Tajik troops, is part of joint anti-terrorism exercises launched under the SCO framework.
The last batch of foreign troops is expected to arrive by Aug 18, the statement said.