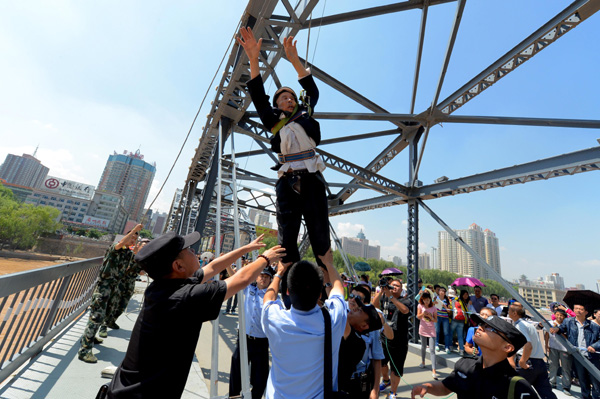 A 76-year-old man is rescued by police and firefighters after he attempted to commit suicide on a bridge across the Yellow River in Lanzhou, Gansu province, on July 3. PEI QIANG/CHINA DAILY 
Common factor is low quality of life
The suicide rate among elderly people in rural China has increased greatly in the past 20 years.
Even more shocking is the lack of concern about the deaths, says sociologist Liu Yanwu, who has spent six years studying the issue.
Liu, a researcher at Wuhan University, found that the suicide rate among the rural elderly has increased from 100 per 100,000 to 500 per 100,000 in two decades.
"But I was more shocked by the lack of concern in villages where the elderly commit suicide," said Liu. "It seems that death is nothing to fear, and suicide is a normal, even a happy, end."
Liu's research began in 2008 with a study of 10 villages in Jingshan county, Hubei province.
During a two-week stay in one village, three elderly people ended their own lives. Similar tragedies occurred in other villages.
In the villages around Yingcheng in Hubei, few elderly people have died of natural causes in recent years, Liu found.
When he visited a village there in 2011, a woman recalled how she helped retrieve the body of a relative who had thrown himself into a pond.
In some suicide cases, Liu said, paralyzed people take pesticide.
In the villages of Yingcheng and Jingshan, the children of suicide victims are not blamed. For the elderly, death is a relief.
His investigation has extended across China to dozens of villages in Hubei, Jiangsu, Zhejiang, Shandong, Shanxi, Hebei, Henan and Guizhou provinces.
While the circumstances differ from place to place, the common factor is a poor quality of life, he said.
Filial piety was valued in old China, but many elderly people in rural areas can no longer depend on their children as a result of the great economic and social changes over the past three decades, and the pension system fails to compensate.
Liu said many young villagers have a budget for treating sick elderly relatives. If it costs less than 30,000 yuan ($4,800) and the elderly relative can live another 10 years with an annual income of 3,000 yuan, then the treatment is worthwhile. But if the elderly relative cannot live long, it is seen as a waste of money.
In China, farmers are vulnerable, and old farmers are the most vulnerable, said Liu.