Suicide bombs in Nigeria's Kaduna kill 82; ex-leader Buhari targeted
At least 82 people were killed on Wednesday in two suicide bombings in the north Nigerian city of Kaduna, one aimed at opposition leader and ex-president Muhammadu Buhari and another at a moderate Muslim cleric about to lead a crowd in prayer.
The attacks bore the hallmarks of Islamist militant group Boko Haram, which considers all those who do not share its views to be enemies. But it may also have been linked to politics before the 2015 elections.
In the deadliest attack, a bomber in a car full of explosives hurtled toward Buhari's convoy at the crowded Kawo market, his son told Reuters on the scene and police said later. A Red Cross official said at least 50 people were killed there.
Buhari was the main opposition party contender against President Goodluck Jonathan in the 2011 election and remains a key figure in the opposition alliance. He was riding in an armor-plated sport utility vehicle and was not wounded.
A crowd gathered at the scene of the explosion until the military dispersed them by firing shots in the air. Smoke rose from another vehicle destroyed in the blast.
"When I came out of my car I saw many dead bodies littered around," Buhari said in a statement, calling the attack "mass murder" and "clearly an assassination attempt".
Earlier, a suicide bomber on foot, targeting a moderate cleric, killed at least 32 of his congregation on a busy commercial road.
Thousands were gathered for prayers with Sheikh Dahiru Bauchi in Murtala Muhammed square. When his convoy pulled up, the bomber lunged at him before being stopped by his private security, witnesses said.
Kaduna's governor, Mukhtar Yero, declared a 24-hour curfew in the city until further notice and condemned the bombs as "the height of cowardice".
"The enemies of peace have visited us with their ungodly venom of wanton destruction," he said in a statement. "Those behind the act have no notion of God, as they have none for the sanctity of human life."
President Jonathan in a statement called it "an odious attempt to inflame passions and exacerbate disquiet, fear, insecurity and sectional divisions in the country".
Boko Haram suspected
There was no immediate claim of responsibility for either blast, but Boko Haram has been staging attacks, especially with explosives, outside its northeastern heartland for the past three months.
The main Islamic association, Jama'atu Nasril Islam, called the bombings "acts of terror" and said Nigeria was becoming "a theater of loss of blood for no just cause".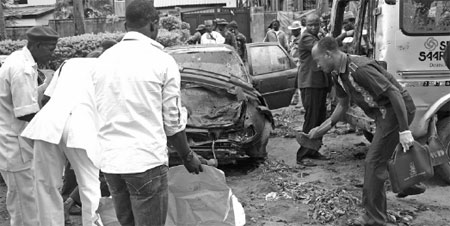 Workers attempt to clean up the scene of a bombing in Kaduna, Nigeria, on Wednesday. At least 82 people were killed in two suicide bombings in the north Nigerian city, one aimed at opposition leader and expresident Muhammadu Buhari. Provided by Reuters
(China Daily 07/25/2014 page11)
Today's Top News
Editor's picks
Most Viewed