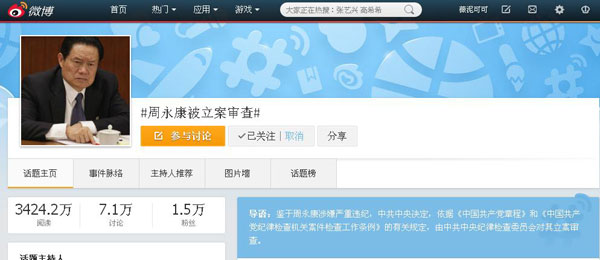 The screenshot of the topic #Zhou Yongkang being probed# at 15:30 pm on Wednesday.

China's netizens were out in force after the story broke of an investigation into "Big Tiger" Zhou Yongkang, with more than 30 million posts on Sina Weibo in less than 24 hours.
By early Wednesday afternoon, the public downfall of the ex-Politburo Standing Committee member and former chief of China's Ministry of Public Security had generated 40.3 million hits on Baidu.com, the most popular search engine in the country.
Within the same timeframe, the topic "Zhou Yongkang being probed" was the top subject on micro blogging website Sina Weibo with over 31 million hits and more than 66,000 comments, with both numbers climbing rapidly.
As a keyword on Weibo searches, "Zhou Yongkang" had became the top hotword in all of China with more than 11 million entries.
The interest in the case is perhaps no surprise. Rumors about Zhou's status had swirled in Chinese media and Internet for months and his whereabouts are still unknown to the public.
The news on Tuesday night from the Communist Party of China's Central Committee that Zhou was being probed for "serious disciplinary violations" unleashed a staggering wave of scrutiny.
The story was top news on most domestic and international media organizations. Soon, Zhou's profile was ubiquitous on the Internet, radio and TV, while analyses were conducted on his alleged network of corruption.
A quick glance at a range of comments on Weibo hailed China's commitment to fighting corruption and praised the efforts of President Xi Jinping, who took office with a pledge to rid the Party of both the "flies" and "tigers" of corruption.
Many netizens remarked, in their own unique phrases, that if a top-ranking official like Zhou can't escape the anti-graft dragnet despite a vast network of nepotism and patronage, than nobody can get away with it.
"I hope the discipline inspection department can go further and catch more corrupt officials," one microblog user named Lizinan posted.
A netizen named Jiaman Tongxie was appreciative, "Big tiger. Uncle Xi is great."
A user "Wang Xuming", who described himself as former spokesperson of minister of Education, posted, "it is not hard to fight against the rebels, but it is hard to find those who wear a disguise. Corruption and traitors are among those."
Special coverage: