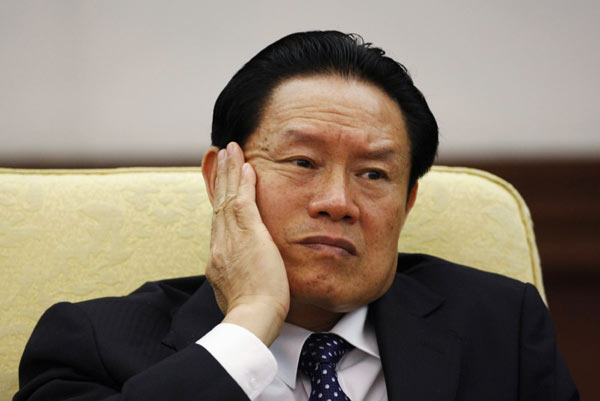 Then China's Public Security Minister Zhou Yongkang reacts as he attends the Hebei delegation discussion sessions at the 17th National Congress of the Communist Party of China at the Great Hall of the People, in Beijing in this October 16, 2007 file photo. China's Communist Party has begun an investigation into former domestic security chief Zhou Yongkang, one of the most powerful politicians of the last decade, for "serious disciplinary violations," the official Xinhua news agency said on July 29, 2014. [Photo/Agencies]
BEIJING - The Central Committee of the Communist Party of China (CPC) has decided to place former security chief Zhou Yongkang under investigation for suspected "serious disciplinary violation."
The investigation will be conducted by the CPC Central Commission for Discipline Inspection.
The decision was made in accordance with the CPC Constitution and the CPC discipline inspection authority's case investigation regulation.
Party leader and President Xi Jinping took office in 2012 with a vow to target both low-level officials and "Big Tigers" in a movement to cleanse the Party of corruption and boost its credibility.
By investigating Zhou, who once managed China's vast security network, Xi has demonstrated his commitment to seek out corrupt officials within the highest ranks of government.
The announcement on Tuesday ended months of speculation over Zhou's fate after dozens of his associates came under investigation.
Zhou was portrayed in Western media as maintaining networks of allies in the southwestern province of Sichuan where he had once been Party boss. He was also thought to have sway in China's oil sector and the police and courts.
Zhou, 71, became a member of the Political Bureau of the Communist Party in 2002 and was on its nine-member Standing Committee from 2007 to the time of his retirement in November 2012. He is believed to be the most senior Party figure ever to face a formal investigation.
From 1988 to 1998, Zhou was a member of the leadership of the China National Petroleum and Natural Gas Corporation. He was Minister of Land and Resources from 1998 to 1999.
A native of Wuxi, Jiangsu province, Zhou became Secretary of the Sichuan Provincial Party Committee in 2002.