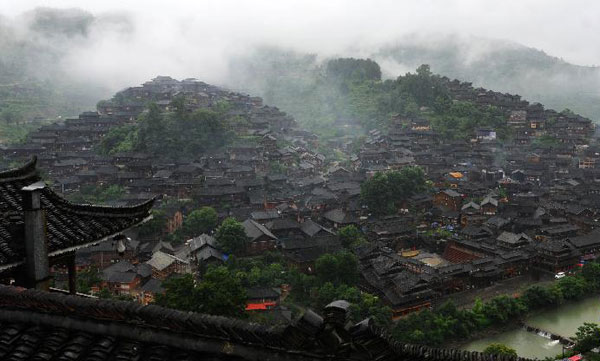 China's largest Miao ethnic minority village. [File photo/Xinhua] 
GUIYANG - After years of cashing in on growing tourism, China's largest Miao ethnic minority village is urgently trying to retain its cultural allure in the face of a commercial boom.
In late October, residents of Xijiang Miao village, hidden in the mountains of underdeveloped Guizhou Province in the country's southwest, formed a committee to protect its ancient dwellings.
"We have to stop the construction frenzy. If not, our future will be bleak," said Hou Tianxiang of the 17-member committee, which is made up of village officials and representatives.
The 2000-year-old village, recommended by backpackers' bible Lonely Planet, has been called an "outdoor museum" of the Miao people. It has wooed tourists from across the world with its distinctive culture, which features 1,300 timber huts built on stilts, joyous celebrations, and stunning silver ornaments worn by women.
However, mass tourism development since 2008 has taken its toll on the village, which is home to over 1,000 families. To cater to the influx of urban visitors, which totaled 3.8 million last year, up from 100,000 in 2008, some old huts were torn down and replaced by modern hotels, restaurants and cafes.
Tourists hoping to find peace at the site were disappointed.
"It has very unique architecture. But it just feels too commercial," said Li Qiang, who travelled 2,000 km from Shandong Province.
"Some of the buildings being built will completely block the view of the old houses along the mountainside, leaving you only the viewing platform to admire it," said a Canadian tourist under the user name "Jean-Pierre D" on tourism website China Highlights.
Despite the explosive growth in tourist numbers, villagers said they have seen fewer foreign visitors in the past couple years. "Ten years ago, many foreigners were fascinated by our village and our culture. Some even spent more than half a year living here," Hou said.
The committee has rolled out measures to strike a balance between development and conservation.
It passed a rule on October 18 limiting new buildings in the village to 15 each year. They must be built in the traditional Miao timbered style, and construction is subject to the committee's approval.
Committee members are now publicizing the rule in the neighborhood and lobbying villagers to dismantle modern buildings they have built.
"We've reached a consensus on protecting our village. It means that our development will get on the right track," Hou said.