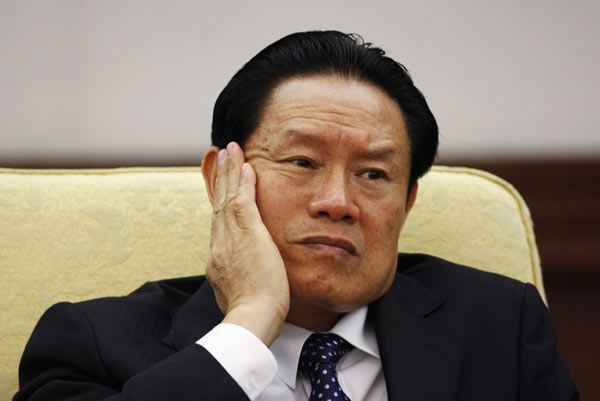 Then China's Public Security Minister Zhou Yongkang reacts as he attends the Hebei delegation discussion sessions at the 17th National Congress of the Communist Party of China at the Great Hall of the People, in Beijing in this October 16, 2007 file photo. [Photo/Agencies]
China's ongoing anti-corruption investigations into officials who have close ties to China National Petroleum Corp, the country's oil giant, may affect the company's business operations and a billion-dollar project in Canada, experts said.
CNPC, China's largest oil and gas producer, acquired a Canadian oil sand project named Dover for $1.23 billion in February through its subsidiary in Canada.
The transaction is ongoing and experts familiar with the sale said the delay is due to corruption probes into CNPC's senior officials in its overseas units.
According to The Wall Street Journal, Jia Xiaoxia, who had worked at CNPC in Canada for nearly a decade and served as its chief representative, announced her resignation in an e-mail in July.
Jia is the sister-in-law of Zhou Yongkang, China's former security chief, who was placed under an investigation for corruption on Tuesday.
"By the time she arrived in Canada around 2006, Jia had previously helped manage CNPC operations in Latin America and spent time working on its business in Sudan. In Canada, she became the public face of the company," as reported by the Wall Street Journal.
Another key player in CNPC Canada, Li Zhiming, was summoned to Beijing last month and met with graft investigators upon his arrival at Beijing Capital International Airport, according to Caixin.com.
Li, the former CEO of Brion Energy Corp, a subsidiary of CNPC's PetroChina Co, has since been out of the public spotlight.
Brion Energy acquired 40 percent of the Dover oil sand project from Calgary-based Athabasca Oil Corp for $1.23 billion in February to give the PetroChina subsidiary full control of the project.
Li, together with Bo Qiliang, vice-president of PetroChina, and Song Yiwu, deputy general manager of overseas exploration and development at CNPC, led the acquisition of the Dover project.
Bo, who was in charge of CNPC's overseas businesses, was taken away by anti-graft authorities in May.
Song, son of Song Zhenming, former minister of China's petroleum industry, was reportedly taken away by investigators earlier this month.
The Wall Street Journal said CNPC recently sent an unofficial and internal e-mail that Chen Shudong would be the Jia and Li's successor. Chen will be taking over "the full responsibilities for CNPC's operation in Canada", the e-mail said.
Since August, dozens of senior officials from CNPC have been taken away by authorities.
In addition to CNPC's former leaders, including Wang Yongchun, Li Hualin, Ran Xinquan, Wang Daofu, authorities have also investigated the company's subsidiaries. Those probes have led to officials from CNPC's sales, research and overseas business units being taken away for further investigations.
Jiang Jiemin, former head of the State-owned Assets Supervision and Administration Commission, was expelled from the Communist Party of China for serious violations of discipline and law.
Jiang, the former general manager and president of CNPC for about five years, was found guilty of taking advantage of his post to seek benefits for others, extortion and receiving a large amount of bribes.